A Monk's Guide to a Clean House and Mind by Shoukei Matsumoto
Author:Shoukei Matsumoto [Matsumoto, Shoukei] , Date: February 7, 2018 ,Views: 2275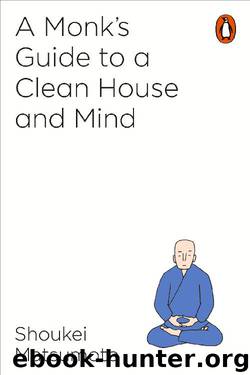 Author:Shoukei Matsumoto [Matsumoto, Shoukei]
Language: eng
Format: epub
ISBN: 9781846149702
Publisher: Penguin Books Ltd
Published: 2018-01-04T00:00:00+00:00



Lighting
It is not easy to clean light fixtures in high places every day. Even at the temple we do not do this daily. But my recommendation for hard-to-reach spots is to set up a cleaning schedule. Setting a regular schedule for cleaning such places is a good way to keep them looking great, and to avoid overlooking them. The monks at the Eihei Temple take care of these spots when the date ends in a '3' or an '8', in other words the 3rd, the 8th, the 13th, etc., of the month. These areas can require many hands, so try to enlist family members or friends.
Back before the light bulb, light was only available until the sun went down. Even in today's age of electric light, we should do our best to keep sources of illumination free of grime or anything else that might obscure them. In the world of Buddhism, light is a symbol of wisdom and compassion. My temple is called Komyoji or Bright Light Temple.
The ultimate goal of Buddhist teachings is to conquer the suffering in people's lives and open them up to enlightenment. In most cases we regard the root of human suffering as mumyo. Literally translating as 'no light', mumyo refers to the condition of being figuratively lost in the dark. Since you are unable to see the true nature of what is around you, your mind succumbs to worry and anxiety.
Wisdom is your most powerful weapon against mumyo. Wisdom allows us to know the world around us as it truly is. The light that appears to be shining from behind the head of some statues of Buddha is an expression of His sincere wish to rescue the people of the world from this darkness. By allowing the light of Buddha's wisdom to shine upon them, people can escape their earthly doubts and misgivings.
Keeping sources of light in your home clear and free of grime will allow the light of wisdom to pour in, vanquishing your mumyo and easing your troubled mind.
Download


Copyright Disclaimer:
This site does not store any files on its server. We only index and link to content provided by other sites. Please contact the content providers to delete copyright contents if any and email us, we'll remove relevant links or contents immediately.