The Lost Art of Good Conversation by Sakyong Mipham
Author:Sakyong Mipham , Date: November 11, 2017 ,Views: 1977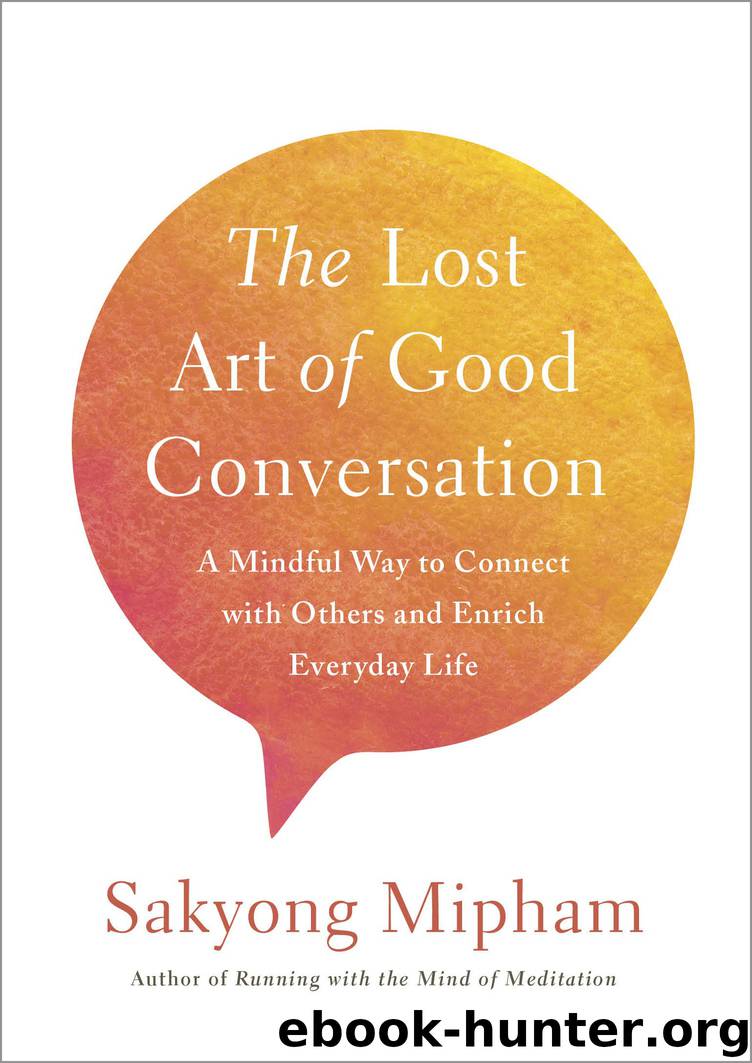 Author:Sakyong Mipham
Language: eng
Format: epub
Publisher: Potter/TenSpeed/Harmony
Published: 2017-10-17T04:00:00+00:00



True Listening
It is said that when the Buddha first taught, two deer approached, knelt down, and raised their ears. They symbolize the act of listening, a sublime way of being present in the moment. Their perked-up ears represent keen attentiveness. Their bodies kneeling down represent relaxation and respect. The receptive state of listening is a way of learning, a way to gain wisdom and insight. It is auditory meditation in which we focus with our ears. It is being open to genuinely hearing the other with inquisitiveness.
True listening is a skill that we develop. It is not always easy. In this era of technological communication and emotional unavailability, all too often there is more speaking than listening. Frequently, when we are speaking to another, we are not having conversation as such but rather an exchange of rhetoric based on strong opinions. If both participants are speaking, then no one is listening. For a genuine dialogue to occur, both speaking and listening must play leading roles.
The verb to listen is connected with the verb to hear. Like sight, sound is a direct way for us to know something. By knowing something, we gain wisdom and insight. As well, when we are listening, we are in a receptive state, absorbing and hosting the sound. Seeing, smelling, and hearing are all ways by which we gain information. So engaging in conversation is training in sensitivity—literally, learning to use our senses. Like sonar in a submarine, our senses help us navigate our surroundings, allowing us to accurately place ourselves. When we're not listening, we're not using our ears to gain information and knowledge from the environment. We are feeling our way through the dark, depending on thoughts and concepts in our head.
Unfortunately, our modern culture is in danger of producing a future where there is less listening. At the same time, there is a tendency to indulge in self-expression. It seems that we must all have an opinion. As a result, we rush to express ourselves in our blogs and tweets, but there are so many that no one is listening. We're really too busy listening to ourselves. Yet hearing is one of the most powerful methods for directly understanding what's going on with someone else.
We often have conversations just because we need someone to hear what we have to say. However, in our busy, speedy world it can be difficult to find someone to listen because the act involves placing one's mind on another person. In fact, these days we often hire people to listen to us. Coaches and therapists are trained in the art of listening, providing the space in which to simply express ourselves. To sit quietly and listen demonstrates strength. Their listening enables our stress, fear, worries, and insecurities to be aired. Talking in a context like this can even help us make decisions. However, in conversation, two people are equal partners in both listening and speaking.
By learning to listen in everyday conversations, we can digest, contemplate, and engage in the thoughts of another, understanding and responding to his emotional state.
Download


Copyright Disclaimer:
This site does not store any files on its server. We only index and link to content provided by other sites. Please contact the content providers to delete copyright contents if any and email us, we'll remove relevant links or contents immediately.