A Leg to Stand On by Oliver Sacks
Author:Oliver Sacks [Sacks, Oliver] , Date: May 16, 2017 ,Views: 1248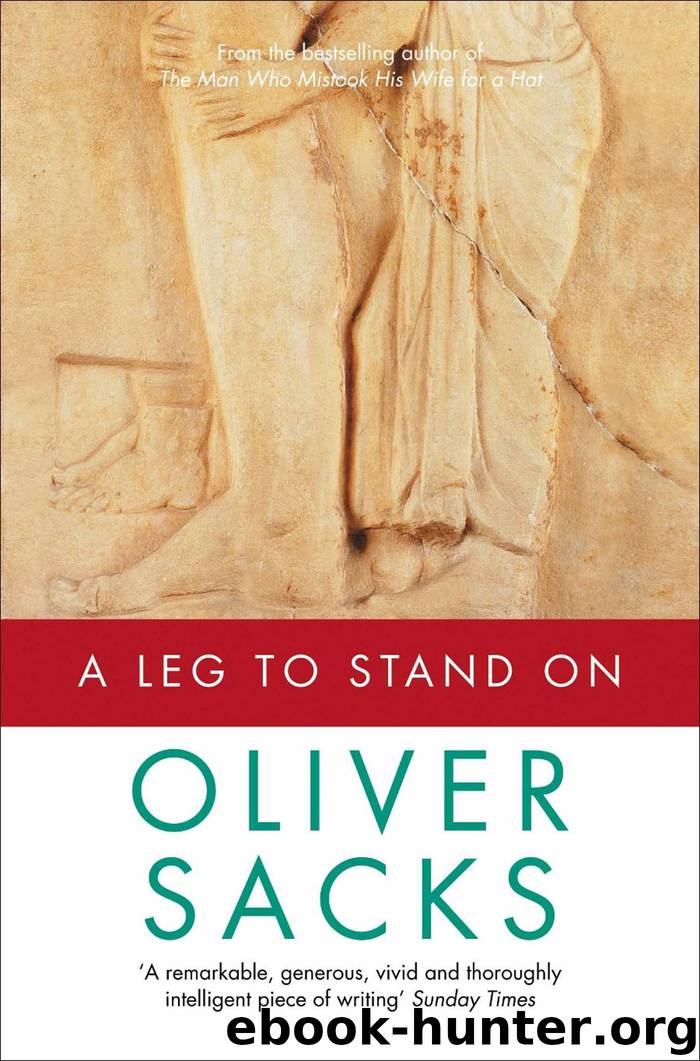 Author:Oliver Sacks [Sacks, Oliver]
Language: eng
Format: epub
ISBN: 9781447204954
Publisher: Pan Macmillan UK
Published: 2014-06-25T16:00:00+00:00



And if this was so for Donne, if this is so for every patient who is condemned to lie in bed ('miserable, and though common to all, inhuman posture ...'), how much more so was it for me, given the peculiar and specific character of my own disorder, the sense of amputation, leglessness, of nothing to stand on ...
Rising, standing, walking pose for every bedridden patient a fundamental challenge, for he has forgotten, or been 'disallowed' the adult, human posture and motions of uprightness, that physical-and-moral posture which means standing-up, standing-up-for-oneself, walking, and walking-away – walking away from one's physicians and parents, walking away from those upon whom one depended and hung upon, walking freely, and boldly, and adventurously, wherever one wishes.
To this universal was added the specific – that I had come to question the integrity, the very existence, of my leg, and that there was ground for his strange questioning in the actual injury of the leg. Especial and extraordinary difficulties exist for those not merely recumbent but also leg-injured; and these were precisely and pungently expressed by Hippocrates, two and a half thousand years ago. Speaking of patients who had suffered a broken hip, and had had to be immobilised in bed for a period of fifty days, this combination, he observed, 'subdues the imagination, so that such patients cannot imagine how to move the leg, much less how to stand; and if they are not made to do so, will remain in bed for the rest of their lives.' I had indeed to be made to rise, and stand, and walk – but how could I do so, and what indeed might happen, in a case such as mine, where to all the usual fears, inhibitions, hesitations, was superadded a fundamental disruption and 'dissolution' of the leg, a disruption and dissolution at once physiological and existential?
Had ever I faced a more paradoxical situation? How could I stand, without a leg to stand on? How could I walk, when I lacked legs to walk with? How could I act, when the instrument of action had been reduced to an inert, immobile, lifeless, white thing?
What I kept thinking of, in particular, was a remarkable chapter in A.R. Luria's The Man with a Shattered World – a chapter entitled 'The Turning Point'. This was, in essence, for the patient, the recovery of 'music':
At first writing was as difficult as reading, and perhaps more so. The patient had forgotten how to hold a pen or to form letters. He was completely helpless ... But a discovery he made one day proved to be the turning point: writing could be very simple. At first he had proceeded just as little children do when they first learn to write – he had tried to visualise each letter in order to form it. Yet he had been writing for almost twenty years and as such did not need to employ the same methods as a child, to think about each letter and consider what strokes to use.
Download


Copyright Disclaimer:
This site does not store any files on its server. We only index and link to content provided by other sites. Please contact the content providers to delete copyright contents if any and email us, we'll remove relevant links or contents immediately.