A Demon's Soul by E.C. Land
Author:E.C. Land [Land, E.C.] , Date: May 5, 2021 ,Views: 10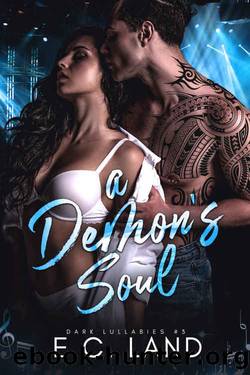 Author:E.C. Land [Land, E.C.]
Language: eng
Format: epub
Publisher: Knox Publishing
Published: 2020-09-12T05:00:00+00:00



Chapter Nine
Lex
Today for the first time in a long fuckin' time I have laughed as much as I have in, I honestly don't remember.
Tanner, Hunter, and I took Mackenzie out on the trails behind the house on the four-wheelers. I laughed with my Starlight as she'd clung to me when I whipped into a mudhole. I also laughed when she'd start laughing when I sped down a straightaway. Tanner and I ended up in a race at one point. It was fuckin' great. Best of all, Mackenzie seemed to have a blast.
Earlier today when I'd pressed my lips to hers, I'd wanted more. Then when she asked if it made her a slut for wanting me inside her, I'd nearly taken her right then and there. The need to show the opposite is strong but I won't take anything that far. Not without her making the first move. I will; however, make sure to kiss her as much as possible.
When we'd gotten back from our afternoon of fun, I'd let Mackenzie go take her shower first. I wanted to check on Anabelle anyway. She'd been quieter than normal, and I wasn't liking it too much; however, I was giving her, her space.
Moving to her door, I knock before opening the door. Finding her room empty, I turn to head back to my room only to stop when I hear the faint sounds coming from my music room. I move to the door and crack it open, only to stop in surprise at the sound of my sister's beautiful voice.
Shit, how did I not know she was able to sing?
Pushing the door open further, I lean against the doorframe, cross my arms over my chest and listen to her.
Words of an angel sing
Nothing can come between
My heart is his and no one else's
Speaking from the heavens above
No one is around to hear him but me
Words of an angel to my ear
He is the miracle that keeps me here
My heart belongs to him and no one else
He's my angel from above
There is no one else I want near me
No one can take the pain away
Only the words of the angel in my dreams
For now, and until time ends
My heart belongs to him and no one else
Never again will I feel nothing but the pain
When he is not here
Words of an angel sing in my ear
Only in my dreams will I be complete
All because my heart bleeds for him alone
Download


Copyright Disclaimer:
This site does not store any files on its server. We only index and link to content provided by other sites. Please contact the content providers to delete copyright contents if any and email us, we'll remove relevant links or contents immediately.