Young Leonardo by Jean-Pierre Isbouts & Christopher Heath Brown
Author:Jean-Pierre Isbouts & Christopher Heath Brown [Isbouts, Jean-Pierre & Brown, Christopher Heath] , Date: November 25, 2021 ,Views: 103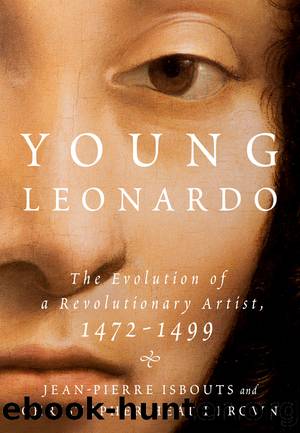 Author:Jean-Pierre Isbouts & Christopher Heath Brown [Isbouts, Jean-Pierre & Brown, Christopher Heath]
Language: eng
Format: epub



Giovanni Donato di Montorfano, Crucifixion with Donors, detail of center with John the Evangelist on the far right, gazing at the beholder.
Another soldier, standing to the immediate left of Jesus' Cross, is holding what appears to a pilum, a long Roman spear, even though the upper part of the lance has faded. There are two possible interpretations for this figure. On the one hand, he could be the soldier who "put a sponge full of the wine on a branch of hyssop" and gave it to Jesus to drink (John 19:29). In medieval art, this sponge is usually placed at the tip of a long spear, so that the soldier can reach Jesus' mouth. This interpretation is bolstered by the fact that in Montorfano's fresco, the soldier is carrying a vessel in his left hand, presumably containing the sour wine.
On the other hand, John also refers to a soldier who pierced Christ's side with a lance, so as to verify that he was dead, "and at once blood and water came out" (John 19:34). This interpretation appears to be validated by the fact that blood is indeed flowing from Jesus' torso. According to a Christian legend (the fourth-century "Gospel of Nicodemus"), the lance bearer was named Longinus. In later legends, he was sometimes conflated with the centurion who cried out at the moment of Christ's death, "truly this man was the Son of God" (Mark 15:39). Some legends state that Longinus eventually converted to Christianity. In fact, he is venerated as a saint in both the Catholic and Eastern Orthodox Churches to this day.
Download


Copyright Disclaimer:
This site does not store any files on its server. We only index and link to content provided by other sites. Please contact the content providers to delete copyright contents if any and email us, we'll remove relevant links or contents immediately.