Xanth 26 - Up in a Heaval by Piers Anthony
Author:Piers Anthony [Anthony, Piers] , Date: March 25, 2014 ,Views: 300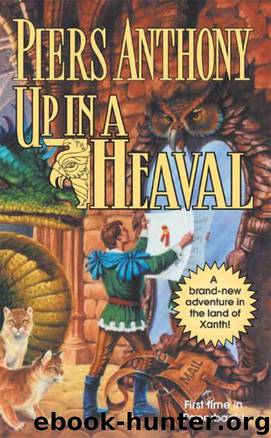 Author:Piers Anthony [Anthony, Piers]
Language: eng
Format: epub, mobi
Tags: Fiction, General, Fantasy Fiction, Fantasy, Humorous, Magic, Humorous Fiction, Xanth (Imaginary Place)
ISBN: 9780812574999
Publisher: Macmillan
Published: 2002-01-01T08:00:00+00:00



"Why are you doing that?"
"First things first, and that's about third. First the gourd: it's known as the hypno-gourd, and it looks like an ordinary garden-variety gourd, but there's a little peephole in the end, and if you look in that, you freeze. All you can do is keep looking, and your mind is inside it, seeing all manner of weird things. That's the realm of dreams, and the night mares go there."
"Night mare," he said. "I met a day mare. They said she was called Imbri."
"Yes, she was a night, but now she's a day. She must have brought you a daydream. What was it about?"
"A girl," he said, blushing yet again.
"How sweet. Was it me?"
He looked at her, not even able to say "uh." She was the girl. He was blushing so hard and hot he was afraid the red would start peeling off his face.
"Anyway, that's the gourd," she said. "Now the denizens therein have a quaint custom that is slowly spreading to the outside. They don't apologize by words so much as by gestures. That is, a hug and a kiss. If it isn't accepted—" She broke off, glancing sharply at him. "Did you accept?"
"Accept what?" He was flustered on top of his embarrassment.
"I guess you didn't. So I have to try again. Maybe I can do it right this time. Let's get you into position." She put her fine hands on his shoulders and turned him half around on the stump, then drew him in for an embrace. Before he could get out another "uh" she kissed him, firmly and lingeringly.
There was still no wine in it, but he did feel as if he were floating. Yet he knew this wasn't right. "You're, uh, only fourteen," he said when she released him.
"That's old enough," she repeated. "Do I take this to mean that you still haven't accepted my apology?"
"I don't even remember what you're apologizing for!" he blurted.
"For teasing you. Since you haven't accepted—"
"I accept!" he cried.
"Awww, spoilsport," she said, making a cute moue.
She was still teasing him, but he decided not to make an issue of it, lest she kiss him again. Besides, he liked it.
"So that's why I'm doing this," she continued after a moment, putting her arm around his waist again. "To be in position for an apology. I trust everything is quite clear now?"
"Nothing is clear!" he exclaimed. "I came here to deliver a letter, and Rapunzel said you would have to read it to them, because it's sort of big for her to handle. So I looked for you, and all you've been doing is—teasing me."
"You really don't know," she said. "That's part of what makes it fun."
"What don't! know?"
"That you are my ideal man."
He stared at her, dumbfounded again.
She glanced modestly down at the ground, then back up to catch his gaze, and smiled. He felt a little thrill when she did that. "I think I had better go back a bit. You see, 'I have an unusual magic talent.
Download


Copyright Disclaimer:
This site does not store any files on its server. We only index and link to content provided by other sites. Please contact the content providers to delete copyright contents if any and email us, we'll remove relevant links or contents immediately.