Winders by Ryan O'Nan
Author:Ryan O'Nan [O'Nan, Ryan] , Date: November 24, 2021 ,Views: 60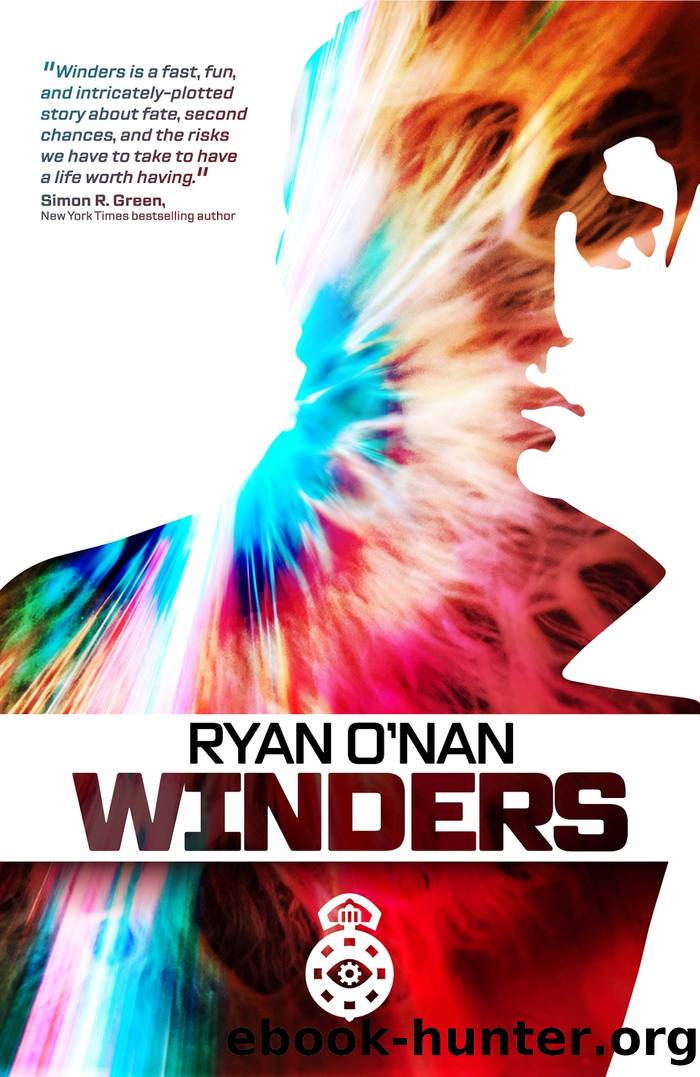 Author:Ryan O'Nan [O'Nan, Ryan]
Language: eng
Format: epub
Tags: Science Fiction
ISBN: 978-1-625675-37-8
Publisher: JAB Books
Published: 2021-09-26T16:00:00+00:00



CHAPTER 26
CHARLIE
I glide down the sidewalk like a specter. No one looks at me, and I look at no one. God, my mind's a mess. I can't seem to come to terms with the idea that this new reality is permanent—that I'm not going to wake up tomorrow back at Grams's place hoping that maybe some state university will be willing to look past my dismal juvenile record and less-than-stellar grades. Ducky got early acceptance to both Columbia and Brown and will be heading to one of those in the fall. Maybe I'll just be a shepherd. Settle down with a nice little flock somewhere. Don't need a four-year degree for that, right?
Grams and Ducky have always wanted something more for me. I wonder if what I'm doing now would fall under the category of something more.
The NYC grid system helps me not to feel like I'm on the moon. Upper Manhattan can be a jumble, not to mention the craziness you get below Houston Street, but in the middle, if you know an address, you can picture right where it is for the most part. Streets run east and west and Avenues run north and south. Houston Street is considered zero street, and the streets go up numerically from there: 1st Street, 2nd Street, 3rd Street, 4th Street, etc. Fifth Avenue is considered the dividing line between east and west, and each block is a hundred. So, if the address is 320 East 10th Street—just for an example—you know that it's ten streets above Houston and a little over three blocks east of Fifth Ave.
I tell myself I'm just testing out my grid knowledge, but as I stare across Tompkins Square Park at 320 East 10th Street—the address I heard a very cute, pissed-off Tristen growl at her cab driver last night—I wonder how much of a stalker this makes me.
The smell of kebabs and sweet roasted nuts saturates the air. I wander south on Avenue A. There's a rowdy basketball game going on to my left. They're playing two-on-two, and there's a decent crowd watching them. The chaos of guys shouting at each other on the court isn't exactly helping my already-frayed nerves, but this is the East Village, and I have to admit there's an energy to this part of the city that excites me. No wonder Tristen lives down here. Something catches my eyes and I stop in front of a newsstand. I see a headline from a local paper, its edges buried behind the two major publications adjacent to it on either side. The smaller paper's headline reads:
WOMAN'S BODY FOUND IN NYC SEWER.
The photo below this headline chills me. The happiness in the woman's face so contrasts the horror that's befallen her. Like she thought the world was fair, and just, and worth believing in, and then fucking blammo; the answer is D: none of the above. And without fail, I see a flash of my mother, smiling and laughing, driving her son home from his little league game, and then… There are so many jackals in this world.
Download


Copyright Disclaimer:
This site does not store any files on its server. We only index and link to content provided by other sites. Please contact the content providers to delete copyright contents if any and email us, we'll remove relevant links or contents immediately.