Urban Exile by unknow
Author:unknow , Date: March 19, 2023 ,Views: 53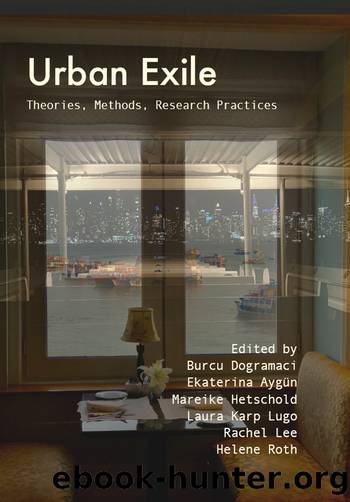 Author:unknow
Language: eng
Format: epub
Tags: Storying the Self
ISBN: 9781789387148
Publisher: Intellect
Published: 2022-03-15T00:00:00+00:00



The city of arrivals
On the shore, there was a buzz rising from the streets of Pera!
No, such vitality has not been seen even in Naples!
(Hamsun/Andersen 2006, 141).
Tourism in Constantinople grew during the first half of the 19th century. When Hans Christian Andersen jotted down these first impressions in his diary, Pera had begun to turn into a cosmopolitan centre of commerce and leisure that offered European standards to travellers (Sinanlar 2008, 15). We can imagine a theatre company consisting of around twenty people from Italy getting off their ship in the boisterous port of Karaköy. There, the hamals (porters) would take trunks filled with costumes or sets and climb the steep slope of Yüksek Kaldırım leading to Pera's hotels. The group would leave their accommodation to rehearse in the famous Naum Theatre the next day, have lunch in a brasserie on Grande Rue de Péra and mingle with the locals of Constantinople as well as with an increasing number of foreigners. Among the motley crowds passing through this imperial capital were artists establishing ongoing relationships and ateliers in Pera. According to the data obtained from various newspapers and the Annuaire Oriental, there were around 63 artist studios in the district during 1840–1900, most of which existed in Asmalımescit and Tarlabaşı. The solidarity in the art world and the collective support of the residents, particularly the shopkeepers offering their shops as temporary exhibition spaces, were strong enough to unite people of different nations and religions in order to share their skills, resources and productivity.
The earliest Constantinople drawings of Maltese painter Amedeo Preziosi date back to 1842. He first lived at Hamalbaşı Sokak, no. 14, Pera, and then moved to Galatasaray crossroads on Grande Rue de Péra, where he became a neighbour to painter Giovanni Brindesi who lived at Yeni Çarşı Sokak, no. 60 (Sinanlar 2008, 27). Gérard de Nerval, a literary figure of French Romanticism who arrived in Constantinople in 1843, re-encountered his close friend, the orientalist painter Camille Rogier, who had lived in Asmalımescit for three years (Nerval 1980, 159). In 1852, the Romantic writer Théophile Gautier stayed in Derviş Sokak, a street that featured the first masonry buildings of Pera, representing Westernization as opposed to traditionally wooden Ottoman houses which had been destroyed by fires (Gautier 1853, 78f.). The district already had a reputation for its dynamic European rhythm when the Crimean War (1853–1855) erupted, which brought painters and photographers monitoring the conflict; Naum Theatre's nightly programmes were replete with at least 60 opera performances during the turbulent years of war (Sinanlar 2008, 19, 26). Furthermore, the grand conflagration of 1870 paved the way for infrastructure projects aiming to renovate the district (Çelik 2017, 83–87). Having been built after the fire, the winter residence of Hagop Köçeoğlu, where Sultan Abdülaziz stayed when he came to Pera for watching the spectacles, was decorated with ceiling frescoes painted by Hippolyte Dominique Berteaux,5 who had arrived in Constantinople in 1873 for this job (fig. 14.1; Sinanlar Uslu 2013, 701–708).
Download


Copyright Disclaimer:
This site does not store any files on its server. We only index and link to content provided by other sites. Please contact the content providers to delete copyright contents if any and email us, we'll remove relevant links or contents immediately.