Unveiled: Book One of The Jewel Chronicles by E.M. Sinclair
Author:E.M. Sinclair [Sinclair, E.M.] , Date: March 18, 2023 ,Views: 37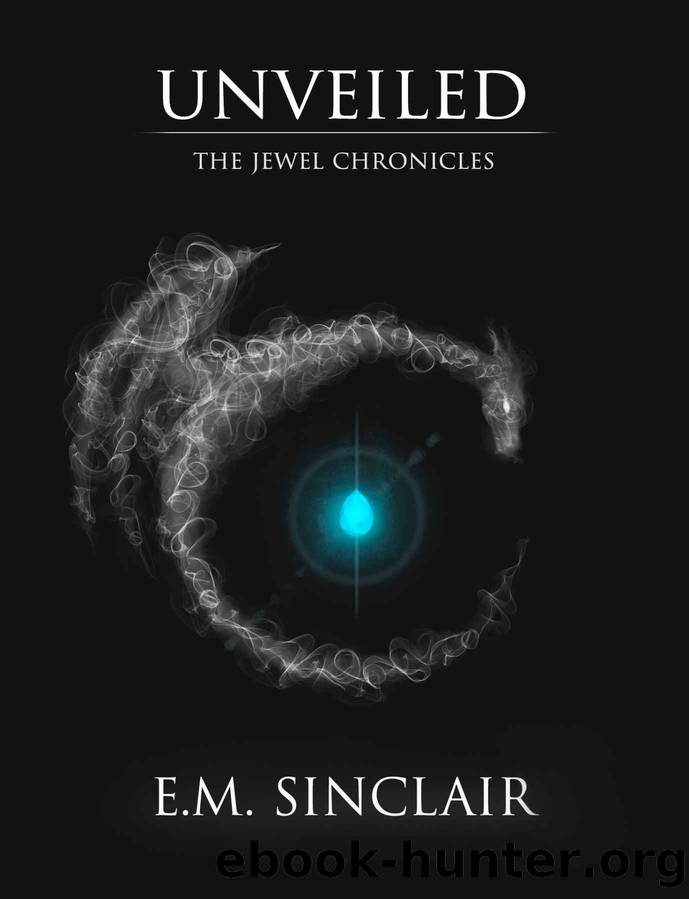 Author:E.M. Sinclair [Sinclair, E.M.]
Language: eng
Format: epub
Published: 2017-12-20T22:00:00+00:00



Chapter 39
I eyed the newcomers warily; they were all women, it seemed, and all were clad in identical woolen cloaks. Their sharp little eyes peered out at me from beneath large grey bonnets. They stared at me in unison for a long moment, then they switched their attention to the god standing in front of them. The lead woman, of middling age, bowed to him.
"Welcome, Halfling," she said in a surprisingly deep voice. "We have been expecting you and your….companion."
My eyes narrowed. Nadriel smiled, showing his teeth enough to cause the women to step back, and then he gave an ironic sort of bow. It was refined, aristocratic, but somehow threatening. I moved forward with Cliff and made myself as tall as I could.
"I must make an offering in the inner sanctum," I said, and my quiet voice echoed off the walls of the cavern, surprising me with its depth and steadiness. I was regarded by seven pairs of black eyes.
"Very well," said the leader, bobbing her head. "If the goddess will have you, you may enter her sanctum. If she rejects you, however…" She smiled, but the expression was far from friendly.
Nadriel's expression hardened, and the women stepped back, suddenly wary. "Take us to her," he ordered.
His tone was commanding and there was no more hesitation; we were led into a dark and winding hall, lit only by guttering candles. In time it opened up into a series of rooms.
The rooms had no doors. I hadn't seen a single door in the entirety of the temple complex, in fact, and I wondered if this was significant. The whole place could only be described as drafty, but I supposed that made sense.
Cliff had been left in the main cavern, where he was content to stand quietly in a corner and chew on a carrot I left him. The wind was of no consequence to him, so long as he had food. I sighed, following quickly behind Nadriel.
His manner changed as we walked, and he became more and more sullen and irritable the closer we came to the sanctum. I was curious, but too afraid to ask about his sudden mood swing. He looked like he wanted to rip someone's head off. I felt my own expression sour in response; our appearance seemed to make the priestesses nervous.
They were exceedingly odd, all of them moving in perfect unison down the dimly lit corridors. All of them seemed accustomed to the harsh environment, the screaming wind. Why anyone would choose to live in such an isolated, desolate place, I couldn't say, but none of them seemed like particularly happy people. The whole place had a wild, harsh aura, like it would fly off the edge of the cliff at any moment, taking us all with it.
And then there was Nadriel's aura, which was leaking out from under his veil like black ink, filling the space until I felt like I was beginning to suffocate. I cleared my throat, and he glanced back, pulling some of his power in.
Download


Copyright Disclaimer:
This site does not store any files on its server. We only index and link to content provided by other sites. Please contact the content providers to delete copyright contents if any and email us, we'll remove relevant links or contents immediately.