Tony Wilson - You're Entitled to an Opinion But. . . by David Nolan
Author:David Nolan [Nolan, David] , Date: November 24, 2021 ,Views: 44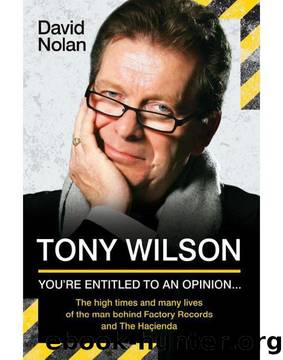 Author:David Nolan [Nolan, David]
Language: eng
Format: epub
Tags: Biography / memoirs / journals
Published: 0101-01-01T00:00:00+00:00



Tony turned his attention to a new project, the flagship Factory headquarters on the corner of Charles Street and Princess Street, close to the BBC. Designed by the man who created The Hacienda, Ben Kelly, it cost three quarters of a million pounds and was a major statement with exposed brickwork, steel girders and a tear-shaped boardroom table suspended on wires from the ceiling. Wilson was in his element as he showed journalist Andy Spinoza around. 'I wanted to triangulate the town with Ben Kelly,' he said, referring to Kelly's other designs for The Haçienda and Dry.
'I like to think we've moved forward,' added Kelly. 'The Factory building is a step forward from Dry. We don't remain static – we don't rely on mileage we've already got.'
In April – at the very time The Haçienda was preparing to reopen – news came through of the death of producer Martin Hannett. After decades of excess, the man who didn't want to spend Factory's money on a nightclub in the first place died of heart failure aged just 42. Tony would rarely, if ever, miss an opportunity to trumpet Hannett's place in the Factory story. 'I hope that I have a facility for spotting genius,' he later told documentary-maker James Nice. 'Although he was a genius – I knew that at the time – I think I've only just understood what a genius he was. It's a word that's used too often but there's no way that it's overused for Martin.'
The Haçienda's closure gave Tony Wilson something he rarely received: time to think. Several weeks after Hannett's death, Tony decided to leave Hilary to be with Yvette Livesey. The pair moved to Comberbach, near Northwich in Cheshire, living in a rented cottage. The news of Tony's split with Hilary lay dormant for two months. National newspapers had got wind of the story but couldn't get a confirmation, with Hilary refusing to speak.
Even so, journalists were gathering en masse on Old Broadway, the street where the Wilson family lived. But it had nothing to do with Tony and Yvette; it was Tony's near-neighbour Richard Madeley who was the cause of media interest. Madeley had opted for trial after being charged with shoplifting at a Tesco supermarket in East Didsbury. The hacks had been there to greet Madeley and Judy Finnigan morning and night and the drama had been incorporated into their vastly popular This Morning show, broadcast daily from Granada's studios at the Albert Dock in Liverpool. Madeley was acquitted and the press pack swelled even further.
It can't be a coincidence that at this precise moment, with her road swarming with reporters, Hilary Wilson decided to break her silence and go to the press with the news that Tony had left her. The paper she chose was the Manchester Evening News and reporter Steve Panter was despatched to interview her. 'I remember knocking on her door,' says Panter. 'She was very cooperative. I remember thinking how attractive she was, hence the words in my piece describing her as "a striking brunette".
Download


Copyright Disclaimer:
This site does not store any files on its server. We only index and link to content provided by other sites. Please contact the content providers to delete copyright contents if any and email us, we'll remove relevant links or contents immediately.