Theatre Criticism: Changing Landscapes by Duska Radosavljevic
Author:Duska Radosavljevic , Date: November 24, 2021 ,Views: 32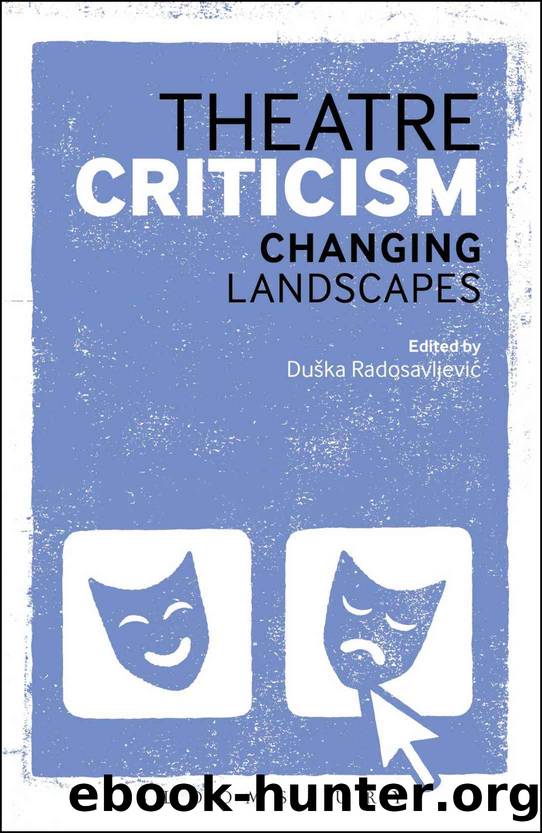 Author:Duska Radosavljevic
Language: eng
Format: mobi
ISBN: 9781472577115
Publisher: Bloomsbury Publishing
Published: 2016-09-07T16:00:00+00:00



The critic as the butt of the joke
Such characterizations may be extreme, but real-life critics have their foibles too. In my experience, we tend to be self-reliant lone wolves, obsessive enthusiasts for the form, with a propensity to over-analyse (how else to explain this chapter?). We're a peculiar lot and certainly not beyond parody. That's the appeal of The Regard of Flight (1983), an Off-Broadway meta-theatrical comedy, in which clown Bill Irwin wakes up on stage and finds himself in a 'new theatre' performance. He is interrupted by a theatre critic played by Michael O'Connor, an earnest young man in a suit, bow tie and glasses. With notepad in hand, he leaps up from the audience to question Irwin's terminology with the air of a pedantic professor. From time to time, we see shots of him furiously taking notes, notepad held myopically close to his face, expression of serious intensity – one comically inappropriate for the chaotic scene on stage. The joke is that the critic is capable of pursuing only his own intellectual ends, imposing his own arid vision while missing the true nature of the show. He symbolizes dry intellect, the opposite of the spontaneity that the audience craves. For comic purposes, it's a caricature that works and, yes, it's funny.
It's not only critics who can't afford to be po-faced while watching Richard Brinsley Sheridan's The Critic (1779). Despite the play's title, few of the characters come out with any credit in this satire of an eighteenth-century theatrical profession beset with puffery, pomposity and opportunism. Such is the conceit of playwright Sir Fretful Plagiary and the ludicrousness of the tragedy presented in rehearsal by Mr Puff that, if anything, the two critics, Mr Dangle and Mr Sneer, end up the least scathed. Dangle is hypocritical in the opinions he shares and the friendships he keeps, but he thrives on the theatrical life and is at least genuine in that. You don't imagine Moon and Birdboot, the two critics in Tom Stoppard's The Real Inspector Hound (1968), having much of a life beyond the theatre either. One is forever fretting about his status as a second-string critic; the other socializes with pretty young actors and admits to vainly taking pictures of his own reviews pasted outside a theatre. Stoppard, who worked briefly as a critic for Scene magazine (1962–3), presents Moon and Birdboot as bumbling, self-absorbed and perhaps a little pathetic. He also gives a pretty accurate parody of critical purple prose, as Moon and Birdboot sing the praises of a shoddy whodunnit as if it were a life-changing experience.
In this, Stoppard counters the popular expectation for critics to be destructive by presenting the two men as gushingly over-the-top. Being too generous, I would argue, is just as common a flaw among real critics as the opposite. The rigours of doing the job mean the people who stick with it are those who are predisposed to liking theatre, which leads to a default position of positivity. As The Guardian
Download


Copyright Disclaimer:
This site does not store any files on its server. We only index and link to content provided by other sites. Please contact the content providers to delete copyright contents if any and email us, we'll remove relevant links or contents immediately.