The Vicar's Son by Catherine Lloyd
Author:Catherine Lloyd , Date: November 30, 2022 ,Views: 10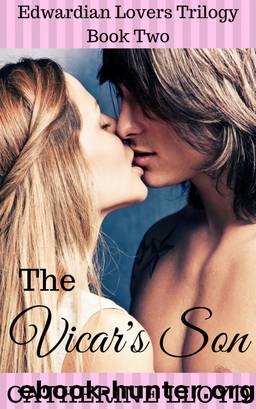 Author:Catherine Lloyd
Language: eng
Format: epub
Tags: english country estate, 19th century romance novella, bad boy good girl love story, edwardian steamy romance
Publisher: Writewood Creations



Chapter Eleven
HOW WAS it possible for a mere two days to pass so slowly? Isolde dutifully arrived at the school for her hour of instruction for two days, each time nearly climbing out of her skin in anticipation of seeing Toller. And each time, she was cruelly disappointed.
If it had not been for the children, Isolde might have fallen into despair. They arrived each dinner hour in high spirits, cheerfully reporting that they had not broken their promise to keep Miss Chaucer's secret. She was grateful for the abundance of treats Toller had provided, which she liberally doled out to each child at the end of the lesson.
Perhaps she was buying their affection as well as their silence. She wasn't particularly good at teaching, but their love of learning was infectious. She'd never enjoyed children before, never mind the ones in braces. Funnily enough, she kept forgetting they were crippled and that's what they liked best about her.
The rat did not return and Toller Lawton fixed the roof in the hours the school was closed.
Isolde walked to Mowbray Cottage the afternoon before she was supposed to go to Norfolk with Toller, wondering if he meant to take her along after all, or if he was quit with her altogether. Maybe he'd found another partner. Maybe a wife was too much bother.
Well, so was a husband! Isolde thought furiously as her shining future slipped away.
Her brother had made an appearance, turning up at the school to see how she was getting on. The visit was unsatisfactory for both of them. She knew why she couldn't speak openly, but what was Wulfric's excuse? Something was going on there. Whatever it was, he seemed happy, so she didn't question him too closely.
It was Toller she was concerned about. The missing, mysterious vicar's son who promised he would marry her and then disappeared. They were to leave tomorrow! Sturdy travelling clothes had been packed! Trousers had been purchased! She'd even taken the extra step of buying a book on geological formations in Norfolk so she could talk intelligently to their hosts.
All for nothing.
In the midst of her misery, a motorcar pulled up alongside and a handsome familiar face grinned at her just as if he hadn't been absent for the past two days.
"Hello, Miss Chaucer. May I offer you a lift home?"
Her anxiety dissolved in the warmth of his smile. Isolde scrambled for something to say. "Where did you get the motor?"
"I borrowed it from Nash. He's not using it. Take it, Lawton, he says. Enjoy your little holiday. An officer and a gentleman is Nash. Come on, get in."
Wordlessly, she climbed into the automobile. Let him speak. Let Toller explain where he's been, she thought.
"I hope you're ready for tomorrow. I had to go to London to meet the manufacturer and pick up our supplies. They're loaded in the trunk compartment. Don't pack too much. I like to travel light and we have a hike ahead of us." He peered at her. "What's wrong? Why are you bawling?"
She swiped the tears from her cheeks.
Download


Copyright Disclaimer:
This site does not store any files on its server. We only index and link to content provided by other sites. Please contact the content providers to delete copyright contents if any and email us, we'll remove relevant links or contents immediately.