The Third Son by S E Green
Author:S E Green [Green, S E] , Date: January 23, 2022 ,Views: 234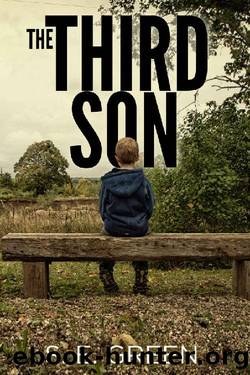 Author:S E Green [Green, S E]
Language: eng
Format: epub
Publisher: SEG Publishing
Published: 2021-12-15T05:00:00+00:00



37
That afternoon, Daddy picks us up from the bus stop. I get another wink and smile from Ms. Sally Anne.
As we pass Minnie's house, I say, "Will you stop? I want to give Minnie the cross-stitch of Boots that I made."
Daddy puts the Jeep in park. I'd wrapped her present in a striped cloth and put it in my bookbag. I find it now and climb from the back seat. It only takes me a second to run across her yard and leave it at her front door.
With a big grin, I jump back into the Jeep. It's too bad I won't be there to see her face when she opens it. I hope she notices the details and realizes I'm the reason why Boots is better behaved now.
When we get up to the house, Daddy makes us a snack of cheese and crackers. Daniel goes to the fort, probably to smoke and look at naked women again. Nathan and I try to build a snowman but too much has melted, and our snowman ends up looking dirty and lopsided.
"Hide and seek?" Nathan suggests.
"Good idea. You hide. I'll seek."
Giggling, he takes off running. I cheat as I count loudly and watch where he goes. "One, two, three…"
I used to play hide and seek with Old Mommy.
Here kitty, kitty, kitty…
Nathan races under the house where Daddy and New Mommy park their cars. Other than the Jeep and tool shed, there is no place to hide under there. This will be easy.
When I'm done counting, I walk slowly toward the parking area. I check under the Jeep and inside it as well, and then I go straight to the shed with the tools. This must be where Daddy used to keep Old Mommy's ashes.
Now she's inside and warm.
I open the door and Nathan leaps out. "Boo!"
He runs past me, and I stand unmoving staring at a dog cage in the back corner.
"What are you doing?" Nathan comes back.
"Where did that come from?" I point.
"Oh, we used to have a lab. It died. Mommy and Carter said we'd get another. We just haven't yet. Do you like dogs?"
I walk over and lift the corner, finding it lighter than our other one.
"What are you doing?" Nathan asks.
"Nothing." I turn away. "I'm going inside to do homework."
Download


Copyright Disclaimer:
This site does not store any files on its server. We only index and link to content provided by other sites. Please contact the content providers to delete copyright contents if any and email us, we'll remove relevant links or contents immediately.