The Myths and Legends of Ancient Greece and Rome by E. M. Berens
Author:E. M. Berens , Date: March 26, 2014 ,Views: 379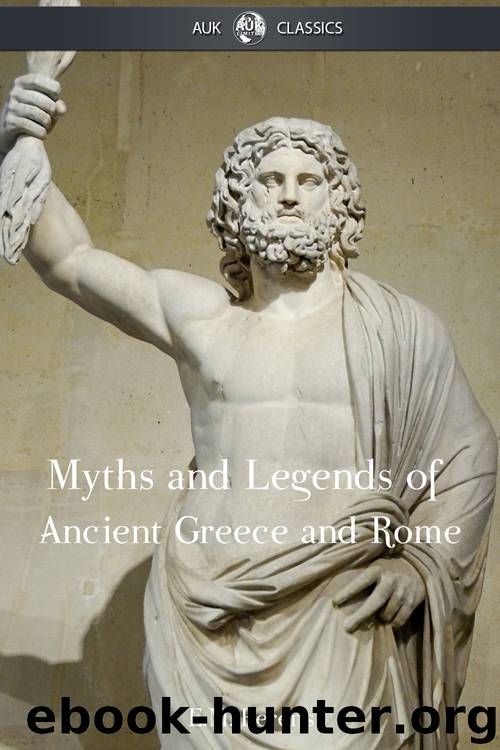 Author:E. M. Berens
Language: eng
Format: epub
Tags: Greece, Rome, god, gods, zeus, Jupiter, Aphrodite, Poseidon, Neptune, Roman, Greek, Italian, History, Divinities, Harpy, Harpies, Pegasus, Pan, Sacrifice, Jason, Argonauts, Oedipus, Troy
ISBN: 9781849892926
Publisher: Andrews UK Limited
Published: 2010-12-31T16:00:00+00:00



Dryades, Or Tree Nymphs
The tree nymphs partook of the distinguishing characteristics of the particular tree to whose life they were wedded, and were known collectively by the name of the Dryades.
The Hamadryades, or oak nymphs, represent in their peculiar individuality the quiet, self-reliant power which appears to belong essentially to the grand and lordly king of the forest.
The Birch Nymph is a melancholy maiden with floating hair, resembling the branches of the pale and fragile-looking tree which she inhabits.
The Beech Nymph is strong and sturdy, full of life and joyousness, and appears to give promise of faithful love and undisturbed repose, whilst her rosy cheeks, deep brown eyes, and graceful form bespeak health, vigour, and vitality.
The nymph of the Linden Tree is represented as a little coy maiden, whose short silver-gray dress reaches a little below the knee, and displays to advantage her delicately formed limbs. The sweet face, which is partly averted, reveals a pair of large blue eyes, which appear to look at you with wondering surprise and shy mistrust; her pale, golden hair is bound by the faintest streak of rose-coloured ribbon.
The tree nymph, being wedded to the life of the tree she inhabited, ceased to exist when it was either felled, or so injured as to wither away and die.
Download


Copyright Disclaimer:
This site does not store any files on its server. We only index and link to content provided by other sites. Please contact the content providers to delete copyright contents if any and email us, we'll remove relevant links or contents immediately.