Saving Vienna: A small town, marriage of convenience romance (The Teager Family Book 4) by Vikki Jay
Author:Vikki Jay [Jay, Vikki] , Date: May 27, 2023 ,Views: 19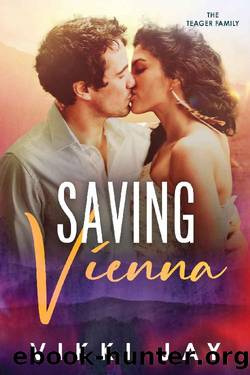 Author:Vikki Jay [Jay, Vikki]
Language: eng
Format: epub
Published: 2022-08-25T16:00:00+00:00



18
VIENNA
"Good mor-rning." I wake at Zane's soft voice.
When I open my eyes, I'm met with the prettiest sight. My husband is leaning against the doorframe, wearing only his track pants and holding two steaming coffee mugs.
"Am I the luckiest girl on the planet, or what?"
He smiles, walking into the guest room and placing one mug on my nightstand.
I slowly get up, pressing the covers under my arms, and when I put on his white dress shirt, his eyes widen.
"Don't tell me I don't look hot in your shirt," I joke, biting back my smile. I didn't intentionally grab it; it was just close and the first thing I could find. But Zane's amused expression was too tempting.
"You look hot in ever-rything," he whispers, hiding his grin away from me.
"If the news gets out that you're this sweet, I'll have to send bodyguards with you to keep you mine." I grab the coffee mug and take a whiff of the nice-smelling coffee.
My husband is definitely sweet on top of being drop-dead sexy.
"This says I'm yours. Don't worry." He shows me his ring finger.
My insides flutter when he looks at me above the coffee mug.
I remember the previous night. Flashes of images float before my eyes like a movie.
His soft touch, hesitant and gentle but also reverent when he caressed my skin.
His groans when he thrusted inside me.
I place the coffee mug back on the nightstand and advance toward him. His hazel eyes widen as he follows my movement. He swallows hard but his gaze doesn't leave my face, even when I'm inches away from him.
I run my fingers over his stubble, and I'm about to place my lips on his when stupid Tassels dashes into the room, followed by Mystery. Unlike Tassels, who has now settled himself between me and Zane, our well-mannered boy Mystery settles himself next to the door.
Zane gathers Tassels and kisses his forehead before placing him in my arms.
My needy pup gets the kiss that was for me!
"Th-there're a lot of people fight-ting for your love th-this morning," Zane says before sauntering out of the room and leaving my heart racing.
"Why did you have to come now, silly boy?" I reprimand Tassels, although I can't be angry at this cute face. "Couldn't you have waited a few minutes? At least I'd have received a morning kiss."
"Get r-ready and I'll give you your mor-rning kiss w-with breakfast." Zane stands at the doorstep with a smirk on his gorgeous face and a towel hanging from his neck.
I dart toward the bathroom. "I'll be there in two minutes."
And true to my word, I'm in the kitchen in record time for a kiss from my husband. But he's nowhere to be found.
I guess it's only fair that I make something for breakfast in exchange for a kiss.
By the time Zane enters the kitchen, I've two steaming cups of Vienna coffee on the table for each of us, sprinkled with chocolate powder. I cut two baguette slices open and lather them with peanut butter before laying strawberry hearts on top.
Download


Copyright Disclaimer:
This site does not store any files on its server. We only index and link to content provided by other sites. Please contact the content providers to delete copyright contents if any and email us, we'll remove relevant links or contents immediately.