Rogue Forces by Mark Willacy
Author:Mark Willacy , Date: September 15, 2021 ,Views: 59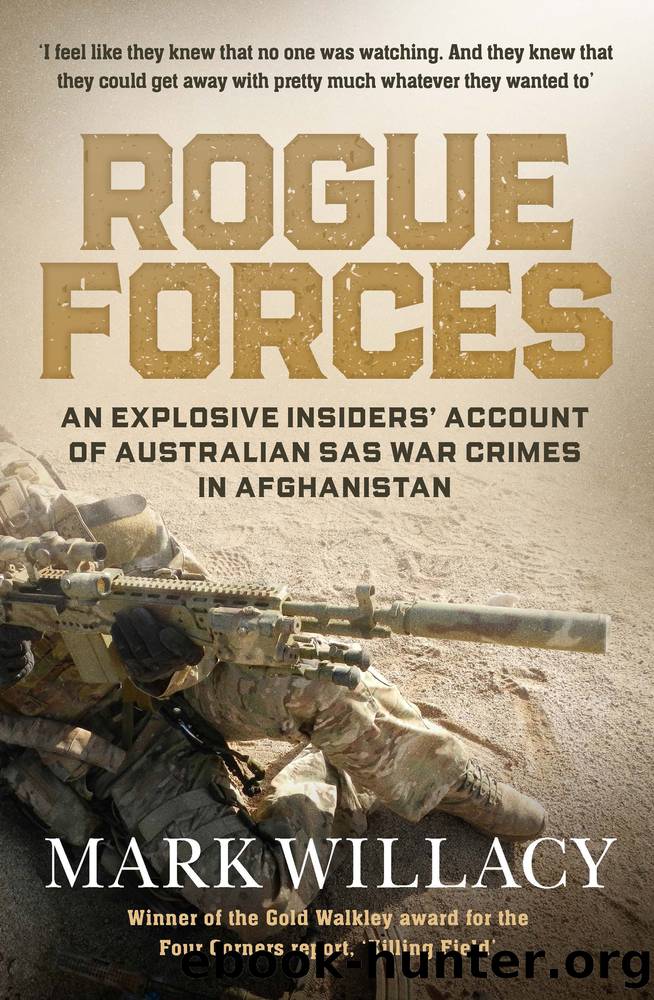 Author:Mark Willacy
Language: eng
Format: epub
Publisher: Simon & Schuster Australia
Published: 2021-08-18T00:00:00+00:00



14 THE TRACTOR JOB
'It was terrible. They were slaughtering villagers like so many sheep'
Sergeant Lawrence LaCroix, squad leader 1st Platoon, Charlie Company, United States 1st Battalion, 20th Infantry after the My Lai massacre, Vietnam, 16 March 1968
Captain Louise walks out of the SAS Ready Room into the winter darkness enveloping Camp Russell. It's 15 December 2012 but she doesn't feel the bite of the frigid Afghan air. She only feels horror, a sickening horror brought on by the operator's confession.
He has just implicated himself and his patrol in a frenzy of slaughter committed only hours before. What he has told Louise amounts to an admission of a war crime, to a massacre of innocent civilians. Farmers. A child. Why did he tell her this? Was the operator trying to unburden himself?
Louise knows exactly why he has confided in her. She has known the SAS operator since they were both 14 years old and hanging out together in far north Queensland. By the time she was 16 they were in a relationship, and she was living with him and his mum and sisters. By the time they were 20, Louise and the operator, Soldier C, were married.
'He was very charismatic,' she says. 'He can be very protective. And can be very loyal.'
He can also be violent. Their 'on-and-off again' marriage is punctuated by violence. One time they were waiting to catch a bus down to Brisbane when Louise remarked on some pies in a shop.
'And I said, "Oh, look at those little pies". He thought I sounded stupid. So he kicked me. And I remember just seeing this look of absolute shock on this woman's face as she was standing by. I think that was the first real incident.'
There was the time when Soldier C was drunk, and he dragged her across the concrete outside a nightclub scratching up her legs. Then he spat on her. And the time he held Louise up against a wall by her throat. Louise remembers that happened after he had failed something during an SAS course.
'It is often when he's feeling like he's failed or something that he wants is in jeopardy,' she says of the explosions of violence. 'I should have just walked away.'
Louise thinks she knows part of the reason why Soldier C acts like this. It comes from a feeling of rejection, of having a father who was gone before he was born. A father he never knew. A figurehead he craved.
'When he must have been 23 – we weren't together at that point – he'd found his biological father, who didn't want anything to do with him,' Louise says. 'I think that was hard for him. I honestly think that almost everything he does is for approval.'
As a young man, Soldier C's dream is to join the SAS. To belong to the Regiment, to be an operator.
'He always feels this need to impress people that he thinks are stronger or higher than him, to try and fit in,' says Louise. 'I think that it really is just him trying to find where he fits in.
Download


Copyright Disclaimer:
This site does not store any files on its server. We only index and link to content provided by other sites. Please contact the content providers to delete copyright contents if any and email us, we'll remove relevant links or contents immediately.