Robert Mangaliso Sobukwe by Pogrund Benjamin;
Author:Pogrund, Benjamin; , Date: September 22, 2022 ,Views: 28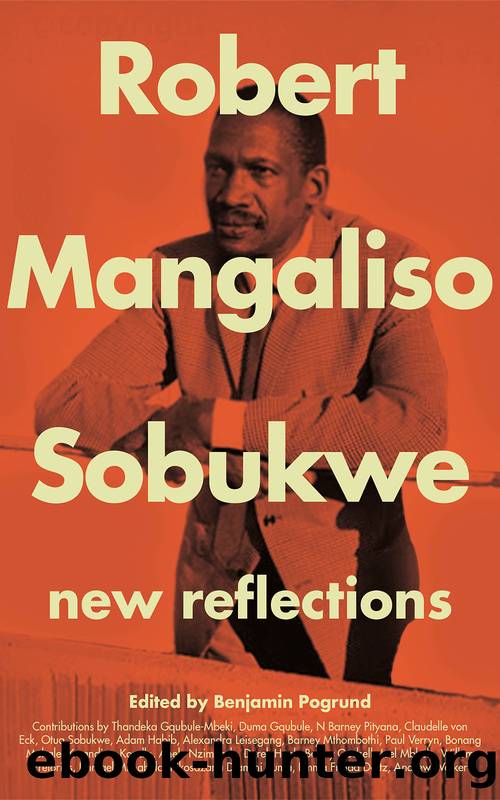 Author:Pogrund, Benjamin;
Language: eng
Format: epub
ISBN: 5944566
Publisher: Jonathan Ball Publishers
Published: 2019-09-30T06:57:19+00:00



The leadership lessons we forget to learn from Robert Mangaliso Sobukwe
Why does South Africa need leadership of Sobukwe's stature and character? In other words, how does one describe the essence of the challenge facing South Africa today? Again I wish to invoke the notion of a 'politics of precarity', which emerges from the work of intellectuals such as Ching Kwan Lee and Yelizavetta Kofman (2012),20 as well as African writers such as Ben Okri. A 'politics of precarity' infers to a large extent the 'multidimensional weight of the world', which embodies social suffering through degradation of work, 'a fractured and racialising citizenship, excessive human vulnerability and unequal burdening of toxic risk'.21 In our situation and context in South Africa, I want to argue that the 'precarity of our politics' is more about the rent-seeking behaviour of political elites leading government and business entities, and that this is threatening the overall legitimacy of the democratic state. Patronage networks are so pervasive in our political space. The political party, rather than being a tool of the people to keep elected leaders accountable, is instead a conduit between the government and private capital, and is used to facilitate private access to public resources. This is eroding the legitimacy of the state. Without state legitimacy, we cannot realise the South African dream. It requires leadership of integrity to condition and ensure the legitimacy of the state. Getting us out of the 'politics of precarity' requires, first and foremost, an organised and non-partisan civil society, and second, a political leadership that has moral authority. It is in this context that the leadership of Robert Sobukwe becomes critical.
The intention here is not to eulogise Sobukwe or turn him into an angel, which he was not. He never claimed a monopoly of truth regarding the ideas that his organisation espoused. In fact, in the interview with Gerhart, Sobukwe concedes the vagueness of some ideas in the PAC and how they were open to misinterpretation. When asked about the PAC slogan, 'Africa for Africans', Sobukwe responded:
Download


Copyright Disclaimer:
This site does not store any files on its server. We only index and link to content provided by other sites. Please contact the content providers to delete copyright contents if any and email us, we'll remove relevant links or contents immediately.