Redeeming Administration: 12 Spiritual Habits for Catholic Leaders in Parishes, Schools, Religious Communities, and Other Institutions by Garrido Ann M
Author:Garrido, Ann M. [Garrido, Ann M.] , Date: July 1, 2020 ,Views: 251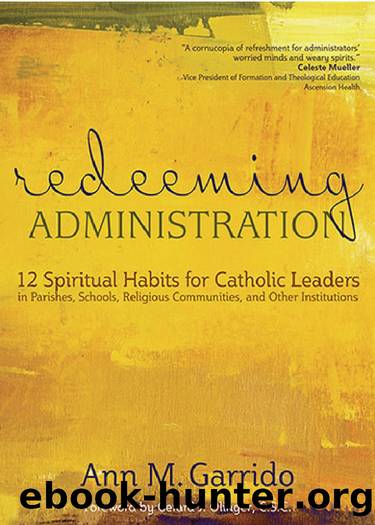 Author:Garrido, Ann M. [Garrido, Ann M.]
Language: eng
Format: epub
Publisher: Ave Maria Press
Published: 2013-09-22T16:00:00+00:00



Administration calls us to . . .
8. Reflection
You are going to spend your life dealing with the ordinary work
of caring for the sick and dying,
disputes between people who should know better,
the failure of marriages,
the child or youth who has done something really stupid,
the celebration of a life of someone you do not like,
questions of whether you still need an 8 o'clock service
for those who will not let go of Rite 1.
In short, you are going to live in ordinary time, undramatic time,
in which your life will seem to dribble out one grain of sand at a time .
But you will know where you are.
You are in the time God has made possible,
Kingdom time,
and the work you do is the peace of God.
—Stanley Hauerwas
"Ordinary Time: A Tribute to Rowan Williams"
"Evaluation" and "assessment" are buzzwords that appear frequently in administrative circles. Accrediting agencies, grant foundations, potential donors—all want assurance that our students are learning, our clients served, our sick healed, our money appropriately stewarded, and our policies effectively kept. As part of their work, administrators are constantly being asked to collect and review data assessing the strengths and weaknesses of programs, persons, and processes.
Sometimes it can feel unnecessarily time consuming to always be looking back at the dribbles of ordinary tasks in ordinary times, asking critical questions, tinkering, and revising. Can't we ever leave good enough alone? Isn't anecdotal evidence sufficient? I know it worked. Why do I need a survey to tell me? And sometimes, the sharp eye developed through repeated assessment activity can actually become a hindrance to spiritual growth. I remember being at Mass many years ago while on vacation with my husband, who is an experienced liturgist. Sitting in silence after receiving Communion, he repeatedly leaned over and whispered commentary on how the parish we were visiting could rearrange the Communion lines for a more efficient flow. "Could we just pray?" I asked. "This is not our problem." Yet, a short time later, I found myself part of a small faith-group process in which I neglected to actually participate because I was too busy mentally evaluating the process itself and the skill of the facilitator. Once the critical eye has been turned on, it can be difficult to locate the off switch.
At the same time, it must be acknowledged that an ongoing habit of gathering data and reflecting upon it has the potential to foster real growth. In a culture that is predominantly future oriented—always looking forward—our work as administrators challenges us to look back and test whether our good intentions actually produced the impact for which we hoped. We say our graduates are able to do certain things. Can they? We write that the grant funds will produce specific results. Have they? In a furiously busy world always ready to leap into the next great adventure, our work forces us to pause and see what we can learn from where we have been.
Anthony de Mello, S.J., tells the story of leading a workshop after which another priest approached him and said, "I've been a priest now for fifty years.
Download


Copyright Disclaimer:
This site does not store any files on its server. We only index and link to content provided by other sites. Please contact the content providers to delete copyright contents if any and email us, we'll remove relevant links or contents immediately.