Popularizing Scholarly Research by Patricia Leavy;
Author:Patricia Leavy; , Date: October 26, 2021 ,Views: 238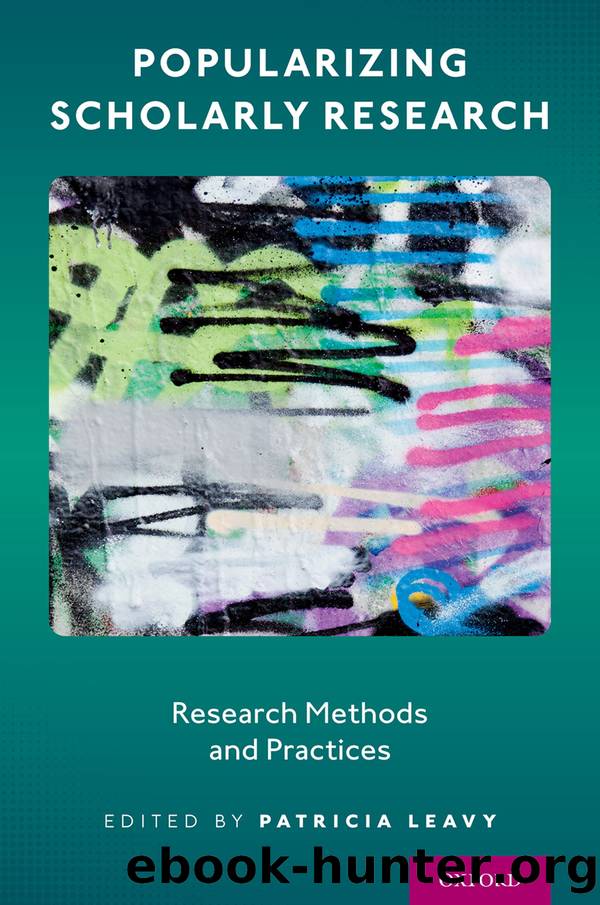 Author:Patricia Leavy;
Language: eng
Format: epub
Publisher: OUP Premium
Published: 2021-10-15T00:00:00+00:00



Figure 9.1 Performance of Contact! Unload, London House, UK.
Blair McLean.
In this section of our chapter I (George Belliveau) examine the playbuilding approaches that our artistic team used to generate the stories that led to the script, as well as the ways in which the art-making process within the scripting honored the voices of the veterans. I was a co-creator, facilitator, and performer in this project, thus working from an insider perspective. This project draws and builds upon a rich and growing literature on playbuilding (Norris, 2009; Tarlington & Michaels, 1995; Weigler, 2001) and research-based theatre (Beck, Belliveau, Lea, & Wager, 2011; Belliveau & Lea, 2016; Prendergast, 2010).
Community members, artist, researchers, and veterans participated in a series of drama-based workshops for a period of three months in Vancouver in order to devise Contact!Unload. The theatre initiative was part of the Man/Art/Action project3 where theatre and visual arts were used to engage veterans to share stories of trauma and pathways toward recovery. In April 2015, the development process culminated with a full production at a professional venue on Granville Island near downtown Vancouver. Four veterans and six civilians performed the 50-minute theatre piece to sellout audiences for three evenings. The theatre piece provided a forum for veterans to model men's engagement with the emotional, physical, and cognitive effects of participating in war. A foundational piece of the theatre project stems from work that Westwood and Wilensky (2005) have developed over the last few decades called Therapeutic Enactment, a group counseling strategy that asks people to "enact critical events from their own life—enacting the narrative, going beyond language to express the self through action, movement, emotion, and reflection" (Westwood, 2009, p. 1). Westwood, co-principal investigator on the Man/Art/Action project, is a leading expert in group counseling support for veterans who suffer from stress-related injuries after deployment. The theatre piece worked hand in hand with Westwood's initiatives and approaches.
Here is an excerpt from the script:
IT'S A RUSH
VET 1
It's fucking awesome, a rush, being mark'd to die, being shot at. You gotta die when you join, so you don't fear dying when you're there. (makes sounds of firefight . . . fsssshht, whooommmp, etc.) I miss it. Sounds strange . . . but I miss it.
(The VETS 2, 3 and 4 are crouched, anxious but at ease.)
VET 3
There'd be days of boredom. Weeks of boredom.
VET 2
Lookin' out at a desert that never changes.
VET 3
I've watched that same rock for days.
VET 2
You wait. Wait for those seconds, minutes, those moments.
VET 3
That's what you wait for.
VET 2
Not your family . . . over here they can't exist . . .
VET 3
They can't exist or you die.
VET 2
So, you wait to get shot. Wait to see if you're going to—
VET 1
Contact! Gage, gage, gage!
(Gunfire, movement and chaos, soldiers are miming that they're shooting. While it is chaotic, there is order and precision to it.)
VET 1
Reorg! Reorg! Reorg! (VETS reorganize ammunition)
K boys, check yourselves out, make sure you're good to go. Just take a knee here.
VET 2
How many mags you got?
VET 3
Three.
Download


Copyright Disclaimer:
This site does not store any files on its server. We only index and link to content provided by other sites. Please contact the content providers to delete copyright contents if any and email us, we'll remove relevant links or contents immediately.