Only Here For A Visit by Alan Brazil
Author:Alan Brazil [Brazil, Alan] , Date: November 24, 2021 ,Views: 51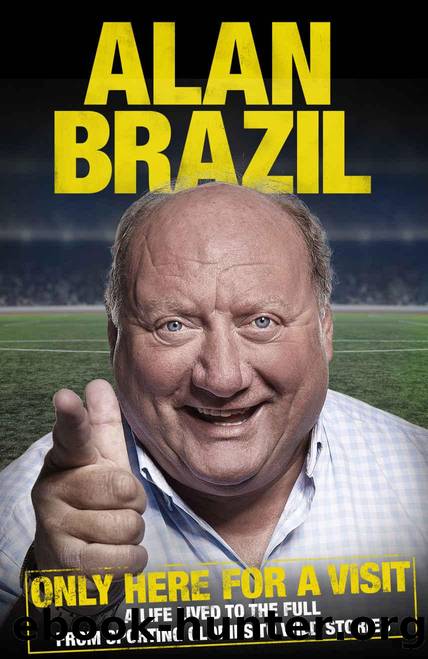 Author:Alan Brazil [Brazil, Alan]
Language: eng
Format: mobi
ISBN: 9781473584433
Publisher: Transworld
Published: 2020-10-28T16:00:00+00:00



7
My First Love
As you may have guessed by now, I love absolutely everything about racing – the horses, the jockeys, the owners, the trainers, all the other personalities connected to it, the gambling, the winning, the losing, the wining and dining. I don't care if I'm being entertained by a Greek shipping magnate, plied with champagne by a lord or eating sandwiches from the boot of a car – it's all the same to me.
I live near Thurlow Estate, where they have point-to-pointing – racing over fences for hunting horses and amateur riders – and I never miss a meeting. The whole family, including the grandchildren, heads over there with a picnic hamper and we have a brilliant day. If I had to choose between racing and football for the rest of my life, racing would romp home.
The first time I went to the races was when my mum's brother-in-law took me to Lanark when I was a kid (Lanark Racecourse closed in 1977, so it shows you how long ago that was). I remember thinking, 'This is different, this is fun.' Occasionally I'd bunk off school and watch the racing on TV, but it wasn't until I moved to Ipswich that I started to understand it and got hooked. And at some point, horseracing overtook football as my first love.
In the Ipswich team, Eric Gates loved a bet and was really into his racing, as were Paul Cooper and Kevin O'Callaghan. Gatesy was always single so had more time to study the form than most. Every day after training I'd find him in the changing room with a copy of the Sporting Life, analysing different horses' performances in previous races and generally keeping up with the news from the stables. Gatesy was a favourites man: he used to put them in doubles, trebles and accumulators, and he'd often win big.
Because of Ipswich's proximity to Newmarket there were a lot of people in the town with connections to horseracing and people would invite us to their yards. We'd be up at 5 a.m. and in Newmarket by six to watch trainers put their horses through their paces on the heath. There is no better sight in the world than a racehorse in full flight on the gallops. It was certainly better than spending the day in bed or playing snooker, which is what a lot of the other lads did in their downtime. And if we couldn't get down to Newmarket, we'd meet up for breakfast and spend the day in the bookies instead.
Sometimes an owner or his son would invite us to their house on race days, because they were as fascinated by footballers as we were by racing. I was just a kid from Glasgow, but rather than being intimidated by the incredible wealth on display, I was intrigued. Where did all their money come from? How could they afford to have houses in London and Barbados, as well as their own yard in Newmarket? I don't mind saying that I wanted a bit of it.
Download


Copyright Disclaimer:
This site does not store any files on its server. We only index and link to content provided by other sites. Please contact the content providers to delete copyright contents if any and email us, we'll remove relevant links or contents immediately.