Nissa: A Contemporary Fairy Tale by Bethany Lopez
Author:Bethany Lopez [Lopez, Bethany] , Date: April 8, 2021 ,Views: 27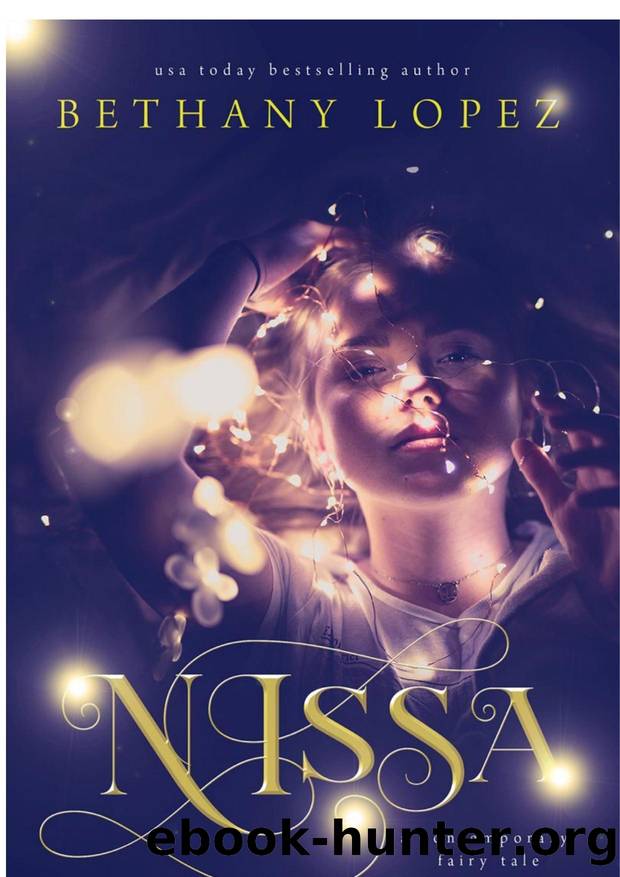 Author:Bethany Lopez [Lopez, Bethany]
Language: eng
Format: epub
Tags: Young Adult Fiction, Fairy Tales & Folklore, General, Fantasy, Girls & Women, Social Themes
ISBN: 9781478283102
Google: 5KrNDwAAQBAJ
Amazon: B00CF88XO0
Publisher: Bethany Lopez
Published: 2020-01-31T18:30:00+00:00



My favorite part was the Senior Carnival. It was the evening of our last actual day of class, and Vicky and I agreed to go home and change, eat dinner, and then meet up and go to the carnival together.
We were walking through the gate after buying our wristbands and Vicky asked what Jackson and I had talked about in class.
I told her about our conversation. How he'd asked if I was a witch and what I had said to him about her.
She didn't say much, walked through the crowd and towards the fun house.
Before we entered the fun house, she said, "I'm really glad I met you, Nissa. When I first saw you on the street that day, I had no idea what a great person you are. How much longer until you go back home?"
"I still have at least a few more weeks. Things are going better than planned, but I hope to stay at least that long."
"Cool. Let's go check out the fun house."
We went through, laughing at the way we looked in the different mirrors.
Then we went into a haunted house. At one point I was so scared that I started screaming at the top of my lungs and ran straight out the exit. I didn't stop running until I was a few feet away and my heart was pounding so hard I thought it might burst.
Vicky came out laughing hysterically.
"What happened, Nissa? I haven't seen you that scared since the incident with the small dog."
"He came at me with a chainsaw, what was I supposed to do, let him chop me up?"
"He wouldn't actually touch you with it, it's for show."
"Well, I didn't like it."
Vicky was still laughing when she came up and put her arm around me.
"Come on; let's go get you some cotton candy."
We stayed well into the night, riding rides and enjoying the sites and the sounds of the evening. Despite her begging, I refused to go back in the haunted house.
We were getting off of the carousal when Jackson and Brandon blocked us at the exit.
"Excuse us," I said, hoping they would do so and not cause a scene.
"Hey ladies, enjoying the carnival?" Brandon looked like he had been drinking and Jackson kept one hand on his arm, as if he was trying to keep him under control.
"Yes, Brandon. Can we get by so we can go on another ride?"
"What was that the other day?" Brandon looked down at me menacingly.
"Nothing. I was defending my friend."
"C'mon, Nissa. There is no way you are strong enough to knock me back like that."
I stood tall and looked him in his eyes, unflinching, and told him straight, "Let it go Brandon. After graduation you won't see me again, and you probably won't run into Vicky much either. So, have a good night and we'll see you at graduation."
He looked behind me at Vicky.
"What's up, Icky? You goin' round and round with your ancestors?" He laughed loudly at his lame attempt at a joke.
"Get over yourself," Vicky said softly, but sternly.
Download


Copyright Disclaimer:
This site does not store any files on its server. We only index and link to content provided by other sites. Please contact the content providers to delete copyright contents if any and email us, we'll remove relevant links or contents immediately.