My Nantah Story by Kok Chiang Tan
Author:Kok Chiang Tan [Tan, Kok Chiang] , Date: May 5, 2021 ,Views: 41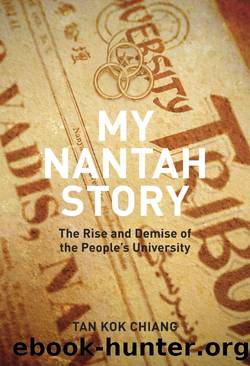 Author:Kok Chiang Tan [Tan, Kok Chiang]
Language: eng
Format: epub
Published: 2019-02-17T16:00:00+00:00



The objective of Nantah is not just to train students to be able to earn a living after graduation. It is to produce talents for the country, to serve society. There are now 1,600 Nantah graduates; in five years there will be 4,000. By that time, there will be many more Nantah graduates contesting in the election. I call on all members of the public who have embraced Nantah to support the Nantah candidates just as you have done for Nantah herself so far.
Tan Lark Sye later issued a written press statement to explain his support for Nantah graduates in the general election:
In a multicultural country, if there is no real equality of treatment between the groups, then emotionally there cannot be real harmony. If emotionally there is no real harmony, then no aspect of society can be at peace or achieve prosperity and progress. Our government has all along been declaring that it treats all the four streams of education equally. This should rightly be so. But if among the fraternal groups one of them is facing a decline in its education system to the extent that it may become untenable, leading that group, for the sake of its own future, to carry out self improvement in order to keep abreast with the other groups, thereby acting according to its abilities to serve the country, should this be denied? Can this be regarded as racism? This is the number one reason why I hope that among the Nantah graduates who are candidates in the coming general election, some of them would be elected. Nantah is a multilingual institution; her students are not limited to learning the Chinese language alone. But being the first to have enjoyed a complete education in Chinese, Nantah graduates are the ones who have the deepest understanding of the dangers facing Chinese education. They have a responsibility to step forward to save Chinese education, so that, as a force, they can continue to make contributions to the country.
Nantah, a local institution of higher learning, has received the general support of all ethnic communities from all walks of life. Nantah graduates have been accepted by universities in different parts of the world for further studies, and have performed with excellence. This is evidence that Nantah standards are satisfactory. But has Nantah been given fair treatment by our own government? The answer is well known to everyone. Faced with this situation, as citizens, Nantah graduates cannot refuse to step forward to point out the injustice, otherwise, Nantah's conditions will continue to deteriorate, and an important force to support the country will become weakened. All reasonable people should understand that to fight for Nantah is to fight for the country. This is the second reason why I hope that some Nantah graduates will be elected.
Experience tells us that in party politics, a good party platform also requires good people to give it support. Without good people, a good party platform is useless. Which party does not make good
Download


Copyright Disclaimer:
This site does not store any files on its server. We only index and link to content provided by other sites. Please contact the content providers to delete copyright contents if any and email us, we'll remove relevant links or contents immediately.