Love Like That by Amanda Hill
Author:Amanda Hill , Date: October 29, 2022 ,Views: 213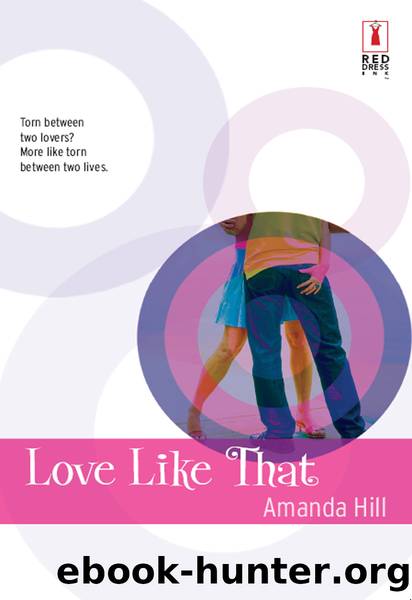 Author:Amanda Hill
Language: eng
Format: epub
Publisher: Red Dress Ink
Published: 2005-10-14T16:00:00+00:00



Jeremy and I were engaged in a full-scale e-mail war for a week. He had replied to my scathing e-mail in an even more scalding tone that I was a *bitch* and that my juvenile antics were getting tiresome. I wrote back furiously, typing that if I was such a bitch he should just marry Pristina and then he wouldn't have to worry about it anymore. He wrote back that I was the one getting married so I shouldn't be worried about anything that had to do with him. He wrote back that I am *fucked* up and im-ma-tour.
It's at times like that when I understand Roman's reticence about sending e-mails. They can really come through just awful. Those stiff, digital words can seep with venom.
I decided to suck it up and sent him a card with a little blond girl on the front, counting to ten. The inside read, "You can come back now."
His reply was a message saying that he would like to talk to me. He said he would meet me at our favorite Starbucks in Venice. We hadn't been there in a long time, but how symbolic because we used to go there a lot when we first started hanging out. We would walk around wishing it was still the sixties so that we might see Jim Morrison writing poetry on the beach. Then we would go home and get high and watch The Doors.
I drove toward the beach wondering what he even saw in Pristina because she was so not like me it wasn't even funny. But once when I asked that he simply told me they had a lot in common. They met in kickboxing class. Jeremy was taking it because he felt fat and Pristina was taking it because she felt hostile. They both lived in the Valley at the time. They liked to go to indie films. They liked to eat seafood. They liked to ride roller coasters. They liked to drink coffee. The clincher? They both loved a good game of golf. Please. I've hardly seen the man move unless it's to grab the remote control.
The day was overcast and chilly. I love Venice. It's a dirty place full of crazy people but it always makes me feel right at home.
"You need to cool it with the attitude," he lectured me as we sat on our bench, slurping Frappuccinos and being serenaded by a man playing a guitar for money. He was pretty good—but neither of us gave him any money.
He ran a hand through his hair. I wanted to tell him it was greasy. I wanted to tell him to quit using Suave and start using Finesse.
"You have to stop ordering me around like you do," he told me.
"What? I do not order you around."
"Yes, you do. I have a girlfriend. I can't just be at your beck and call."
"You're really fucked up, you know that?"
"You're one to talk." He reached for my hand and inspected my engagement ring. "If you and Roman split up, you could sell this.
Download


Copyright Disclaimer:
This site does not store any files on its server. We only index and link to content provided by other sites. Please contact the content providers to delete copyright contents if any and email us, we'll remove relevant links or contents immediately.