Gears Of War Ephyra Rising by Michael A. Stackpole
Author:Michael A. Stackpole [Stackpole, Michael A.] , Date: November 24, 2021 ,Views: 59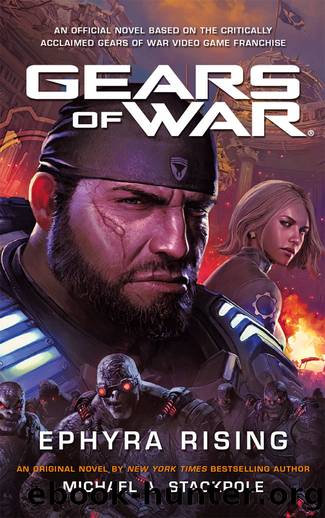 Author:Michael A. Stackpole [Stackpole, Michael A.]
Language: eng
Format: epub
Publisher: Titan Books



7: FLORES FAMILY CEMETERY
MERCY, SERA
24 BOUNTY 18 A.E.
Marcus gazed down at the kneeling angel, its head bowed and hands pressed together in prayer. It knelt atop a pedestal with the name Flores carved onto it. The crest of one wing had broken off, but otherwise the angel retained its granite immortality.
Around its neck hung a necklace that had belonged to Maria Flores Santiago. Intertwined with it was Dominic Santiago's COG identification tag. Marcus lifted the tag, felt its weight. On their last visit, Dom had taken time at the grave and, unbeknownst to Marcus, had placed his COG tag on the memorial.
Dom knew. All the things that had worn him down. Everyone he loved, gone. A lump rose in Marcus' throat. Everyone but Delta, and he made sure we would continue.
Marcus let the COG tag lie heavy in his palm. I miss you, brother. So much. He closed his hand around the tag, holding on tight, then gently laid it against the angel's breast. Rest well. You've earned it.
He half turned toward Brandon, who waited a dozen steps back. "Dom Santiago put this here. The Flores were his wife's people. Necklace was Maria's."
"She buried here, too?"
"No." Marcus started to explain what had happened, but caught himself. He felt the pain keenly in his chest—the pain Dom had experienced when he let Maria know peace. "Dom and Maria had two kids, but Locust got them early on. They got Maria later. Dom… Dom died some distance from here, saving my ass."
"I'm sorry you lost your friend."
"Really my brother—more than just being part of Delta. We were brothers in arms, and the shit we got up to out of uniform, well…" Marcus' mouth wanted to smile, but his throat tightened more fiercely and his vision blurred. So many memories. Most poignant of them was Dom confiding in Marcus that he was going to be a father for a second time. The look of sheer joy on Dom's face went unrivaled in Marcus' mind until he recalled his friend holding his newborn baby girl. The light just shone from him then. So proud, so thankful, so sure of what the future had to bring.
The same sort of light that engulfed him at the end. Dom had died to give Marcus and the rest of Delta a way out of a deathtrap. Formers from one side, glowie grubs from the other, Locust swarming the tunnel entrance. If not for Dom's sacrifice…
Marcus walked around to the statue's right side and picked up the broken bit of wing. He put it back into place and it remained there because of gravity. Marcus figured it would take a stiff wind to knock it down again.
"Dom… I think Dom put his COG tag here because Mercy was where his heart was. He used to tell the story about when he decided to ask Maria to marry him, he decided to do it properly. He came all the way up here to ask her great-grandfather, the Flores patriarch, if he could have her hand.
Download


Copyright Disclaimer:
This site does not store any files on its server. We only index and link to content provided by other sites. Please contact the content providers to delete copyright contents if any and email us, we'll remove relevant links or contents immediately.