Friends Lovers and Family by Unknown
Author:Unknown , Date: August 6, 2020 ,Views: 564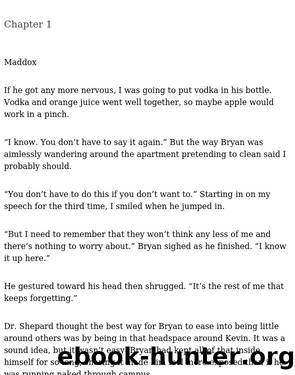 Author:Unknown
Language: eng
Format: epub



Chapter 3
Chapter 3
Trent
It was like watching a TV comedy or one of those old Who's on First comedy sketches. I probably should have stepped in, but I was having fun watching Hayden trying not to shoot the sales guy.
"No, thank you. I don't want to look at the used ones." He was still so polite, but this was the third salesperson who'd tried to push us toward the back of the lot where they kept the used beaters. Hayden was ready to buy the damned dealership and throw them all out.
It would have been funnier if I knew he wouldn't really do it.
The SUV he was looking at wasn't even the most expensive one on the lot, so I wasn't sure what they were hyperventilating about. Even I couldn't complain. He was picking out the base models and trying to be practical the same way we'd done when we'd purchased the other car.
He'd bribed Vinnie.
I just hadn't figured out how.
They hadn't even finished getting the car off the tow truck when Vinnie had come out shaking his head, telling me he'd give my girl a good burial. Hayden had started doing a great impression of a laughing donkey and almost couldn't breathe.
Vinnie had simply looked at me and asked if I was ready to let her go.
It was a car, not my first love.
But I was the one getting the last laugh. I'd suggested searching online for another used one, but Hayden had said he'd wanted to go look at new cars first. He was starting to regret that decision. My idea wasn't looking so bad now.
But the smile he was giving the sales guy made him look like he was plotting his murder. No self-preservation instincts whatsoever. This was going to be fun.
Hayden dropped his voice and gave the idiot a stern look. "If I have to repeat myself to another salesman at this company, I'm going to call the general manager or maybe even the owner." My little fireball stepped closer to the now startled salesman, who was starting to realize he'd been patronizing to the wrong little cutie.
"I, well, we're trying to—" He started stumbling over his words as he stepped backward.
It was never a good sign for a sale when the guy kept backing away.
"No." Hayden's expression was still polite. Technically. But I knew better.
"Every salesman at the dealership has assumed I don't have the funds to purchase a vehicle or the smarts to realize that I have to be too poor." Hayden cocked his head, giving the man an appraising look. "I don't know if you think you're saving me from myself and I'll be grateful, but I'm getting tired of the attitude. I am going to be buying a car today, but you're not getting the sale. I would like the sales manager, please."
When the wide-eyed man didn't move fast enough, Hayden's smile stiffened. "Now."
Maybe car shopping was more fun than I thought.
The guy looked at me, probably hoping for someone to save him, but I crossed my arms over my chest and frowned.
Download


Copyright Disclaimer:
This site does not store any files on its server. We only index and link to content provided by other sites. Please contact the content providers to delete copyright contents if any and email us, we'll remove relevant links or contents immediately.