Ellery Queen's More Lost Ladies & Lost Men Anthology 1 by Eleanor Sullivan
Author:Eleanor Sullivan [Sullivan, Eleanor] , Date: September 15, 2021 ,Views: 33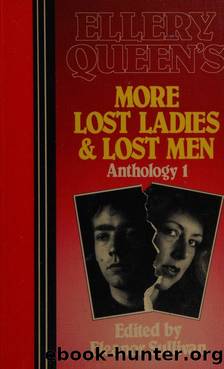 Author:Eleanor Sullivan [Sullivan, Eleanor]
Language: eng
Format: epub
ISBN: 1555047424
Publisher: John Curley & Associates
Published: 1989-12-30T21:00:00+00:00



Cornell Woolrich
THE DEATH OF ME
As soon as the front door closed behind her I locked it on the inside. I'd never yet known her to go out without forgetting something and coming back for it. This was one time I wasn't letting her in again.
I undid my tie and snaked it off as I turned away. I went in the living room and slung a couple of pillows on the floor so I wouldn't have to fall, could take it lying down. I got the gun out from behind the radio console where I'd hidden it and tossed it onto the pillows. She'd wondered why there was so much static all through supper. We didn't have the price of new tubes so she must have thought it was that.
It looked more like a relic than an up-to-date model. I didn't know much about guns; all I hoped was that he hadn't gypped me. The only thing I was sure of was it was loaded, and that was what counted. All it had to do was go off once.
I unhooked my shaving-mirror from the bathroom wall and brought that out, to see what I was doing, so there wouldn't have to be any second tries. I opened the little flap in back of it and stood it up on the floor, facing the pillows that were slated to be my bier. The movie wouldn't break up until eleven-thirty. That was long enough. Plenty long enough.
I went over to the desk, sat down, and scrawled her a note. Nothing much, just two lines. "Sorry, old dear, too many bills." I unstrapped my wristwatch and put it on top of the note. Then I started emptying out the pockets of my baggy suit one by one.
It was one of those suits sold by the job-lot, hundreds of them all exactly alike, at seventeen or nineteen dollars a throw, and distributed around town on the backs of life's failures. It had been carrying around hundreds of dollars—in money owed. Every pocket had its bills, its reminders, its summonses jabbed through the crack of the door by process-servers. Five days running now. I'd gotten a different summons each day. I'd quit trying to dodge them any more. I stacked them all up neatly before me. The notice from the landlord to vacate was there too. The gas had already been turned off the day before—hence the gun. Jumping from the window might have only broken my back and paralyzed me.
On top of the whole heap went the insurance policy in its blue folder. That wasn't worth a cent either—right now. Ten minutes from now it was going to be worth ten thousand dollars. I stripped off my coat, opened the collar of my shirt, and lay down on my back on the pillows.
I had to shift the mirror a little so I could see the side of my head. I picked up the gun in my right hand and flicked open the safety catch. Then I held it to my head, a little above the ear.
Download


Copyright Disclaimer:
This site does not store any files on its server. We only index and link to content provided by other sites. Please contact the content providers to delete copyright contents if any and email us, we'll remove relevant links or contents immediately.