Dream Catcher by Annette Mori
Author:Annette Mori [Mori, Annette] , Date: January 14, 2021 ,Views: 22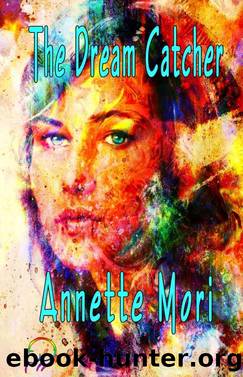 Author:Annette Mori [Mori, Annette]
Language: eng
Format: epub
Tags: romance
ISBN: 9781988549477
Publisher: Affinity Rainbow Publications
Published: 2018-05-01T05:00:00+00:00



†
I had no idea what level of exhaustion I could aspire to, but after Syl ran me through a battery of tests I had a pretty good notion. I felt like I'd walked to Antarctica and back—on my tiptoes. Fortunately, she informed me that whatever they had injected into my system had not caused irreparable damage. She'd even remarked that she could tell how much I'd learned under Maya's tutelage.
She'd found her answers and undoubtedly reported back to Leah that I was still valuable to her, but I hadn't learned a damned thing. She promised that they would fill me in when the time was right, but the priority was learning how the drugs had impacted my system, then allowing me to rest.
By now, a needle should have been my BFF, considering how many times I'd been injected, "for my own good," but I was a tiny bit leery when Syl wanted to take a blood sample. I agreed, because deep down I trusted her, almost as much as I seemed to trust Maya. Leah, not so much.
Syl damn near ordered me back to sleep and then left my room. Unnecessary, because sleep overtook me almost immediately after she went away. I was too exhausted to dream, and that was a good thing. I didn't want to have to rein in something that my subconscious decided to bring to life.
I can't say for sure how long I was asleep, and it didn't matter anyway. When I woke up, Maya was sitting in a recliner next to my bed. Her head was resting on her chest, and I thought she was fast asleep. When I stirred and pushed the covers down, she brought her head up and looked me in the eyes.
"How are you doing?" she asked.
"I'm okay, but if you have a new body to spare, I'll take it."
She laughed. "If I had a new body hanging in the closet, I would have already procured that for myself."
She looked a little less like total shit, but I could tell that she'd had a rough time of it.
"Tell me about what you remember from your childhood or formative teenage years?" she asked.
Well, that came out of the blue. "What? I'm not sure that talking about my childhood is very important right about now. I'd like some honest answers to a few questions."
"It's important, Heaven. There are a few holes in…"
"Are you saying you might not have all the answers to my questions?" I asked.
"I think that there are some things that Leah has kept from me. Maybe you and I can cut through some of the bullshit by pulling together remote pieces of the puzzle. It's important."
"Okay. Well if you want to know if I was always like this, the answer is no. I think I always feared that I'd be the one to inherit my issue. Adults don't realize how big little people's ears really are. I would hear them whisper about how it skipped a generation, and the odds weren't in my favor.
Download


Copyright Disclaimer:
This site does not store any files on its server. We only index and link to content provided by other sites. Please contact the content providers to delete copyright contents if any and email us, we'll remove relevant links or contents immediately.