Demystifying Disability by Emily Ladau
Author:Emily Ladau [Ladau, Emily] , Date: November 26, 2021 ,Views: 96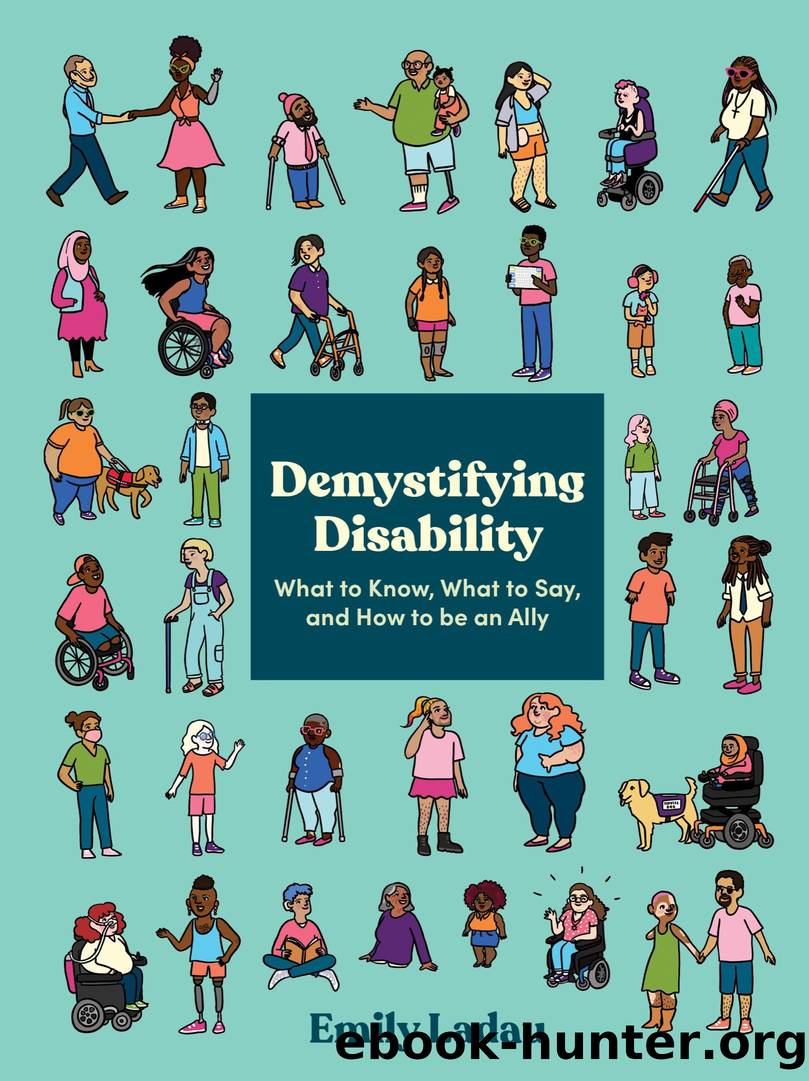 Author:Emily Ladau [Ladau, Emily]
Language: eng
Format: epub
Publisher: Clarkson Potter/Ten Speed
Published: 2021-09-07T00:00:00+00:00



Do Ask Questions When Appropriate
I know we just went over what kind of questions to absolutely avoid, but there's an important distinction between rude questions and acceptable ones. The difference depends on both the context in which the question is being asked and your relationship with the person you're asking. Let's consider a few different scenarios.
Sometimes questions arise because people are genuinely seeking information. For example, I'm occasionally approached in public by strangers who are curious to know specific details about my power wheelchair or my wheelchair-accessible vehicle, usually because they or someone they know would benefit from the information. I'm happy to answer questions like these because I know that information about adaptive equipment isn't always easy to come by. But not everyone is as comfortable engaging, which is okay. So if you have a legitimate question that doesn't unnecessarily invade a disabled person's privacy, it's best to approach and say, "May I ask you a question about…" instead of just blurting it out. If the person expresses that they'd prefer not to answer, it might feel awkward, but you can simply say, "Okay, I understand," and move on.
There are also plenty of instances in which the best etiquette is to ask, rather than to avoid, disability-related questions. When you're planning an event, meeting, or outing, it should be standard practice to ask about accessibility needs, even if you're not sure whether other people involved identify as disabled. If you have a certain level of familiarity with the people you're communicating with, the ask can be informal ("Hey, do you/does anyone have any accessibility needs to participate? Let me know how I can support you!"). If you're engaging with someone you don't really know or have a more formal relationship, it can help to add a little more context to what you're asking ("I want to make sure what I'm planning works for you. Is there anything I can do or any accommodations you might need to make this accessible so you can fully participate?").
Things get more personal when it comes to closer relationships. Friends and partners may have questions about certain aspects of disability, in either getting-to-know-you conversations or deeper, more intimate discussions. In these contexts, asking thoughtful questions about someone's disability can be a way to show that you care about the person and want to better understand who they are. Or it might educate you on how to offer support or assistance. If you're unsure how to broach the question, it can help to preface it with something like, "Is it okay if I ask a question about your disability?" or "I'm wondering about [insert whatever you're wondering about]. Would you be up for talking about it?" Take that initial moment to check in with the person to make sure they're comfortable. Open communication about personal aspects of identity is an ongoing process of building trust, so if someone lets you know they'd rather not respond to a disability-related question, please respect that and don't push them on it.
Download


Copyright Disclaimer:
This site does not store any files on its server. We only index and link to content provided by other sites. Please contact the content providers to delete copyright contents if any and email us, we'll remove relevant links or contents immediately.