CrickiLeaks by Alan Tyers
Author:Alan Tyers , Date: August 6, 2020 ,Views: 96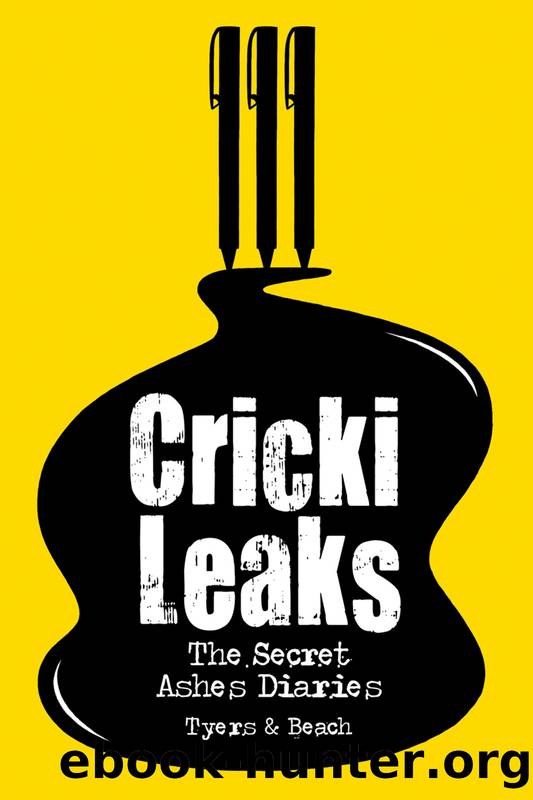 Author:Alan Tyers
Language: eng
Format: epub
Publisher: A&C Black
Published: 2011-08-14T16:00:00+00:00



Duncan Fletcher
Trent Bridge, August 27th 2005
Without doubt the most satisfying aspect of what I do is conceiving a plan, putting it into motion and then seeing the players execute it under the pressure of the live match environment. The Ponting run-out today was the culmination of months of preparation.
In January, I had sent Gary Pratt to Australia to tail Ponting. I had Gary check into each hotel Ponting was staying at, and make sure Ponting saw him doing something un usual and memorable in each one. Ponting did not know Gary from Adam, but he sees a man screaming on a cell phone in the lobby in Perth; the same man talking to a pot plant in the spa area at Mel bourne; and then again wearing a loud Hawaiian shirt and carrying a snowboard in the breakfast buffet at Sydney. And every morning, hospitality arrives to do Ponting's room: it is Gary in a chambermaid outfit. He only pops his head around the door for a second be fore saying: "Ay dios mio, I am forget clean towel." Importantly, he does not return. Ponting fancies he recognises this mannish, incompetent cleaner. But from where?
Ponting is a fine cricketer, but his powers of facial recognition are no better than moderate. And as he is a busy person who meets a lot of people, he cannot be certain these strange but essentially insignificant events are even the same man. But it starts to nag at him.
By the spring, we are ready to step up the plan. I suggest to Gary that, while he has a lot of good qualities as a cricketer, no career lasts forever and he should consider other options. I persuade him to retrain as a hairdresser and he takes a job at Romeo's barbers in Launceston. Sure enough, Ponting is back home in March visiting his folks and he needs a haircut. Who's giving him a short-back-and-sides? A very familiar-looking guy from somewhere he can't place. Unsettling.
Once they arrive in England, we get to phase three. Ponting is a big watcher of DVDS on tour. We know from our research that he is a creature of habit: GoodFellas, Babe: Pig in the City (interestingly, he does NOT care for the original Babe) and A Weekend at Bernie's. Only these three. We have our video department recut these films, adding in a single frame – just 1/24 of a second – every now and then: an extreme close-up of Gary screaming. We obtain Ponting's DVDs and replace them with the doctored versions. Subliminally, Gary is right inside Ponting's head. Every time Ponting watches one of his films, a sense of disorientation and confusion results.
So today, Ponting is set and batting well. I instruct Gary to field in place of Simon Jones, telling him to get in Ponting's eye-line. At the end of the 43rd over, on my signal, he wanders up to Ponting and mutters: "Just a trim, is it, sir?" The penny drops – Ponting is distracted, his head's all over the place.
Download


Copyright Disclaimer:
This site does not store any files on its server. We only index and link to content provided by other sites. Please contact the content providers to delete copyright contents if any and email us, we'll remove relevant links or contents immediately.