Cognitive Behavioral Therapy Made Simple: 10 Strategies for Managing Anxiety, Depression, Anger, Panic, and Worry by Seth J Gillihan PhD
Author:Seth J Gillihan PhD [Gillihan PhD, Seth J] , Date: April 14, 2019 ,Views: 629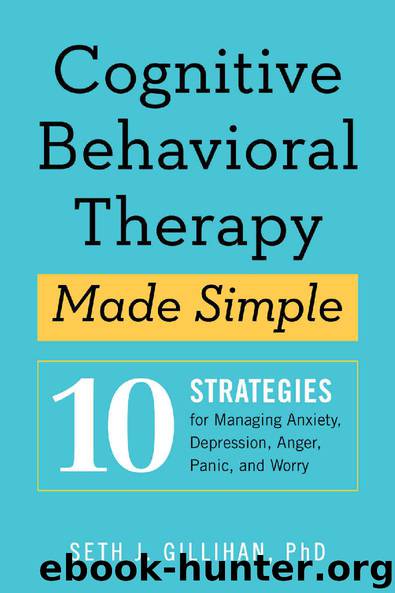 Author:Seth J Gillihan PhD [Gillihan PhD, Seth J]
Language: eng
Format: epub
Publisher: Althea Press
Published: 2018-05-07T18:30:00+00:00



CHAPTER SEVEN
Stay on Task: Push Through Procrastination
In this chapter, we'll address why we often delay doing what we know we have to do. As we'll see, there are several factors that lead us to procrastinate. Once we understand these factors, we'll consider the many tools that CBT offers for breaking this habit.
Alec knew he needed to start on his final paper, which was due the next day at 5 p.m. "I've still got 24 hours," he thought to himself as he looked at the stack of books he was going to use as references. He felt his stomach tighten with a surge of anxiety as he wondered how the paper would turn out. Just then another video autoplayed on his computer from the "Top Ten Funniest Pet Videos" playlist. "I'll just watch this one. Maybe one more after this one," he said to himself as he turned back to his laptop, feeling vaguely guilty but temporarily relieved.
Do You Have a Procrastination Problem?
People vary in their tendency to procrastinate and in the specific tasks they put off doing. Take some time to consider ways you might delay doing things you know you need to do. Do you find yourself in any of the following situations on a regular basis due to procrastination?
•Realizing you didn't leave yourself enough time to finish a task by the deadline.
•Feeling inadequately prepared for meetings.
•Trying to force yourself to do a task.
•Being stressed about time as you rush to appointments.
•Trying to hide that you haven't been working on a task.
•Producing lower quality work than you're capable of.
•Telling yourself, "I'll take care of that later."
•Waiting to feel more inspired or motivated so you can do a task.
•Finding ways to waste time instead of doing what you need to do.
•Relying on last-minute pressure to complete a task.
Download


Copyright Disclaimer:
This site does not store any files on its server. We only index and link to content provided by other sites. Please contact the content providers to delete copyright contents if any and email us, we'll remove relevant links or contents immediately.