Canavan, Trudi - Age of the Five 01 by Canavan Trudi
Author:Canavan, Trudi , Date: July 16, 2020 ,Views: 108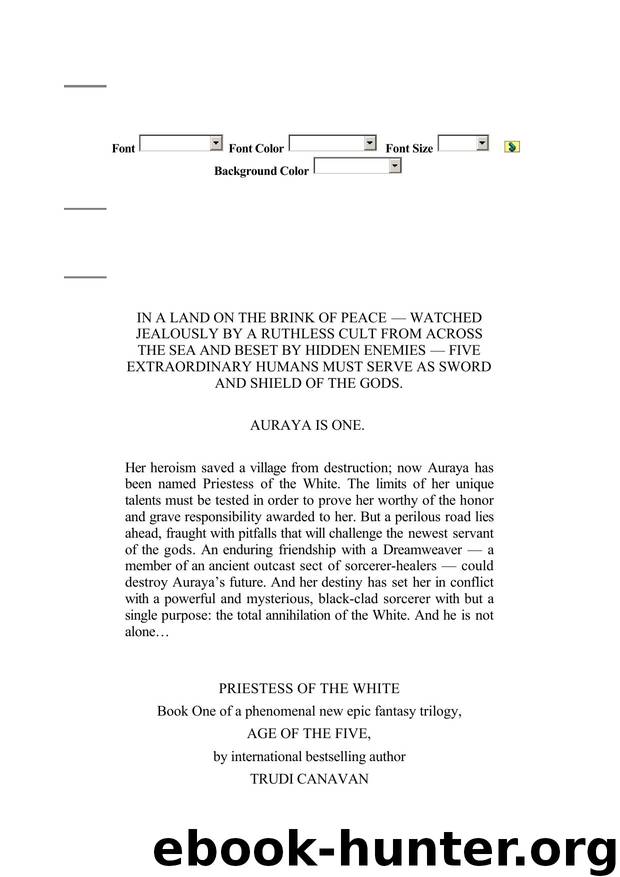 Author:Canavan, Trudi
Language: eng
Format: epub



The sky was the blue-black of early evening. Stars blinked and shivered all around, but the cause of their disturbance was only visible when looking west, where hundreds of winged forms could be made out against a sky still aglow from the sunset.
These forms glided down to the Open, to the level area at the middle of the rocky slope known as the Flat. Fires had been lit in a large circle and their light set the faces of the Siyee aglow.
Auraya recognized many of these faces now. She had talked to Siyee of all ages, positions and tribes. Not far from her stood the trapper of the Snake River tribe who had described how his people had been driven from their fertile valleys by Toren settlers. Farther away stood the old matriarch of the Fire Mountain tribe who had shown Auraya the forges her people used to make arrowheads and knives from the abundant mineral deposits in their homeland. Landing now were three young men from the Temple Mountain tribe who had approached her to ask what they must learn to become priests.
"There has never been a Gathering this large in my lifetime," Speaker Dryss murmured to her, "and I have attended them all."
She turned to regard the old man. "Speaker Sirri explained to me that only Speakers or those chosen to represent them are required to attend a Gathering. I am not surprised more have come, however. What you decide tonight could change your way of life. If I was Siyee, I'd want to be here to hear their decision."
"True, but I'm sure a few are here just to catch a glimpse of the Gods' Chosen,"
he replied, chuckling.
She smiled. "Your people have been welcoming, Speaker Dryss. I confess I'm half in love with this place, and wish I did not have to leave."
His eyebrows rose. "You do not miss the comforts of your home?"
"A little," she admitted. "I miss hot baths, mostly. And my friends."
He opened his mouth to reply, but at that moment Speaker Sirri turned to the line of Speakers.
"It is time, I think. If we wait for stragglers, the night will end before we do."
The others nodded in agreement. As Sirri stepped up onto Speakers' Rock the Siyee below stopped talking and looked up expectantly.
Sirri lifted her arms. "People of the mountains. Tribes of the Siyee. We, the Speakers, have called you here tonight to hear the words of Auraya of the White, one of the Gods' Chosen. As you know, she has come to us to discuss an alliance between Siyee and the Circlians. Tonight we will hear her words and voice our thoughts. In seven days we will gather again to make our decision."
Sirri turned and looked at Auraya expectantly. Stepping forward to stand beside the woman, Auraya looked down at the Siyee people. Since she had arrived she hadn't needed to read their minds to discover their doubts and hopes. They had spoken of them openly. Now she let her mind skim over theirs.
Download


Copyright Disclaimer:
This site does not store any files on its server. We only index and link to content provided by other sites. Please contact the content providers to delete copyright contents if any and email us, we'll remove relevant links or contents immediately.