Business Secrets of David Oyedepo: How From Poverty He became the Richest Pastor on Earth-You Too Can by Oladimeji Olutimehin
Author:Oladimeji Olutimehin [Olutimehin, Oladimeji] , Date: February 13, 2020 ,Views: 150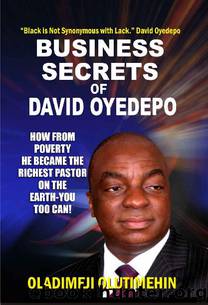 Author:Oladimeji Olutimehin [Olutimehin, Oladimeji]
Language: eng
Format: epub
Publisher: Kingdom Books
Published: 2017-04-04T07:00:00+00:00



CHAPTER SEVEN
Stay Restless
Covenant Principle
"Arise and depart, for this is not your rest; because it is defiled, it shall destroy. Yes, with utter destruction." Micah2:10
"The Lord our God spoke to us in Horeb, saying, 'you have dwelt long enough at this mountain. Turn and take your journey, and go to the mountains. See, I have set the land before you, go in and possess the land which the Lord swore to your fathers- to Abraham, Isaac, and Jacob- to give to them and their descendant after them."
Deu 1:6-8
David Oyedepo's Sayings
"A longing for more is the secret of Paul's success in ministry. He was never satisfied! He looked forward perpetually, though without anxiety, to better days ahead and brighter results to come. Hear this apostle of renown: "I count not myself to have apprehended." No wonder he kept on pressing! If you get tired of pressing, you won't receive the prize."
One of the major disease killing destinies in the Body of Christ is not HIV, Ebola, Malaria or Cancer.
It is much more potent and subtle than these. It is the disease of contentment and satisfaction. Once you believe you have arrived and reached the top, you will begin to live a life of ease.
Someone get a good paying job, builds his house, buys a car and marries a beautiful woman and become contented. There is nothing to strive for again. This is mediocrity at his best. This person is sentenced to the prison of limitation.
At any point in life that you become contented with what you have, at that point your life begins to stagnate and end. Of course you should be contented with what you have, but not contented to the extent that you no long strive ad live for anything any longer.
A pastor whose Church reaches a hundred begins to feel satisfied and contented with what he has. He has arrived in the big leagues since his Church at a hundred is one of the biggest. More so, they have been able to build their own building. That is a great feat to him.
The moment you make the decision that you have arrived, your senses stops functioning. It becomes defiled. Your mind is not created for rest but for discontent. Arrival mentality is limitation mentality.
What is doing some pastors is not really the devil, but the fact that they have desired to arrive too soon. The greatest prison you will sentence yourself to, is the prison of contentment. There is no plan for reformation in it.
When you become contented where you are, you become blind to all other opportunities that God is thrusting your way. God may be telling you that you have stayed at that level for long, it's time to move on but all you are thinking is that it must be the devil.
Restlessness means stretching and straining to attain a goal and when you reach that goal you don't relax, but stretch some more. Life is all about stretch. People who continuously stretch beyond where they are, end up creating and dominating the world.
Download


Copyright Disclaimer:
This site does not store any files on its server. We only index and link to content provided by other sites. Please contact the content providers to delete copyright contents if any and email us, we'll remove relevant links or contents immediately.