Breaking History by Jared Kushner
Author:Jared Kushner , Date: September 18, 2022 ,Views: 79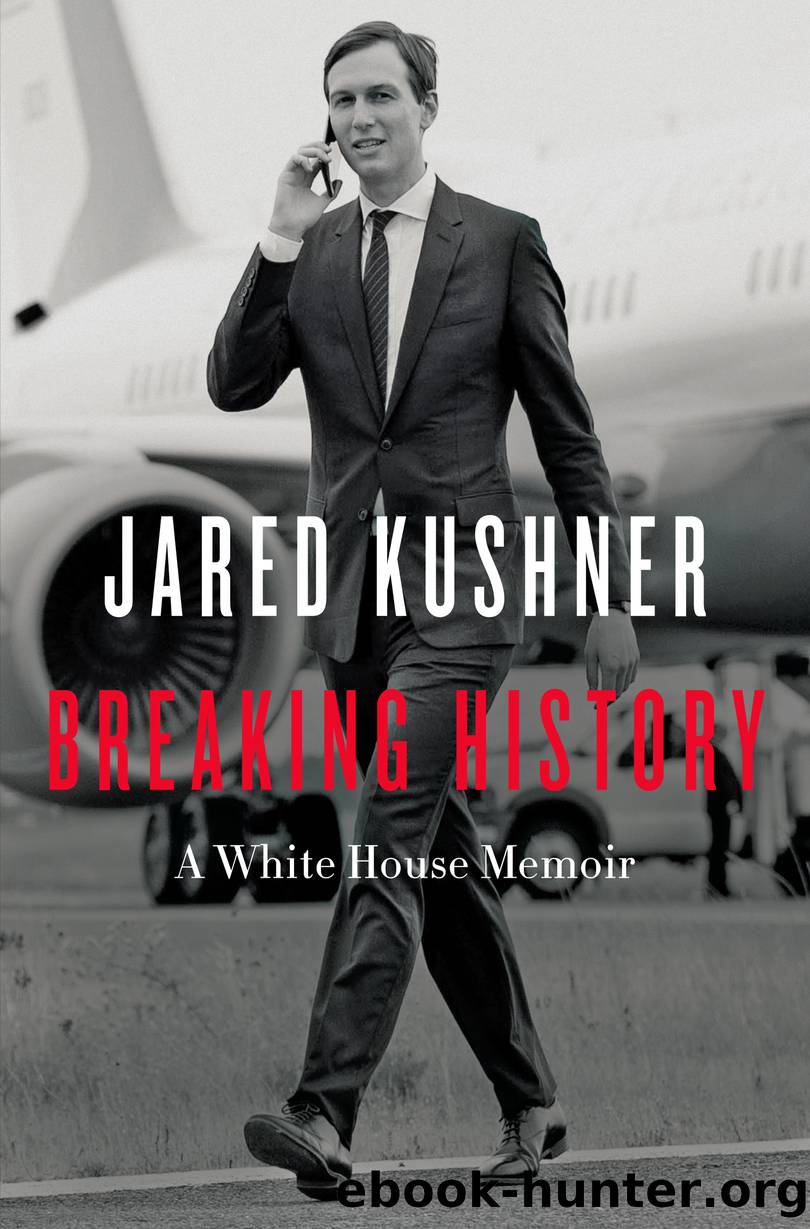 Author:Jared Kushner
Language: eng
Format: epub
Publisher: HarperCollins
Published: 2022-07-08T00:00:00+00:00



30
Exoneration
It really was a hoax all along—and on March 24, 2019, even CNN had to admit the truth. It was a Sunday afternoon, and I was about to leave the house when Avi called.
"Turn on the television!" he said.
As I reached for the clicker, I barely had time to wonder what new crisis loomed. The first thing I saw on the screen was a breaking news chyron: "DOJ: Mueller Did Not Find Trump Conspired with Russia."
The Department of Justice had reviewed the report of special counsel Robert Mueller and concluded that neither Trump nor his presidential campaign had colluded with Russia to influence the election in 2016. Investigators had spent two years and tens of millions of dollars searching for evidence of a link—and as I'd expected, they'd turned up nothing.
So it wasn't a crisis at all. It was a relief. We'd waited years for this moment. I knew that we had done nothing wrong, but Trump was always concerned that Mueller would exaggerate some random fact of the case, handing his detractors something to seize on to claim proof of collusion. My mom also worried constantly. Sometimes it seemed like she tracked the press reports speculating about my legal status more closely than my lawyer did. I called her immediately and told her to turn on the news.
"I'm now one hundred percent in the clear," I said. "See, I told you that you shouldn't have been so worried."
As we spoke, my eyes wandered back to the television screen, where CNN correspondent Manu Raju was discussing the announcement. "Nancy Pelosi and Chuck Schumer just issued a joint statement about the Mueller report. They said that the fact that Special Counsel Mueller's report does not exonerate the president on a charge as serious as obstruction of justice demonstrates how urgent it is that the full report and underlying documentation be made public without any further delay given Mr. Barr's public record of bias against the Special Counsel inquiry."
This whole thing is a sick game, I thought. We came to change Washington and serve our country. The media and the Democrats challenged the legitimacy of the election with a vengeance. Trump was right all along. This whole investigation had been nothing but a witch hunt.
After the announcement of Trump's exoneration, Senator Richard Burr, a North Carolina Republican and chairman of the Senate intelligence committee, sent me a letter asking me to answer another round of questions about collusion with Russia. My lawyer Abbe Lowell pushed back, noting that I had already answered the committee's questions in July of 2017. Plus, the Mueller report closed the case. Yet Burr refused to abandon an investigation into which he had invested so much time. So he threatened me with a subpoena.
Having nothing to hide, I agreed to go. But I wasn't happy that it pulled me away from my other priorities. When I arrived at the Hart Senate Office Building, Burr slid up to me outside the hearing room. "Thank you for coming today," he said.
Download


Copyright Disclaimer:
This site does not store any files on its server. We only index and link to content provided by other sites. Please contact the content providers to delete copyright contents if any and email us, we'll remove relevant links or contents immediately.