Blown Away: Refinding Life After My Son's Suicide by Richard Boothby
Author:Richard Boothby [Boothby, Richard] , Date: September 20, 2022 ,Views: 28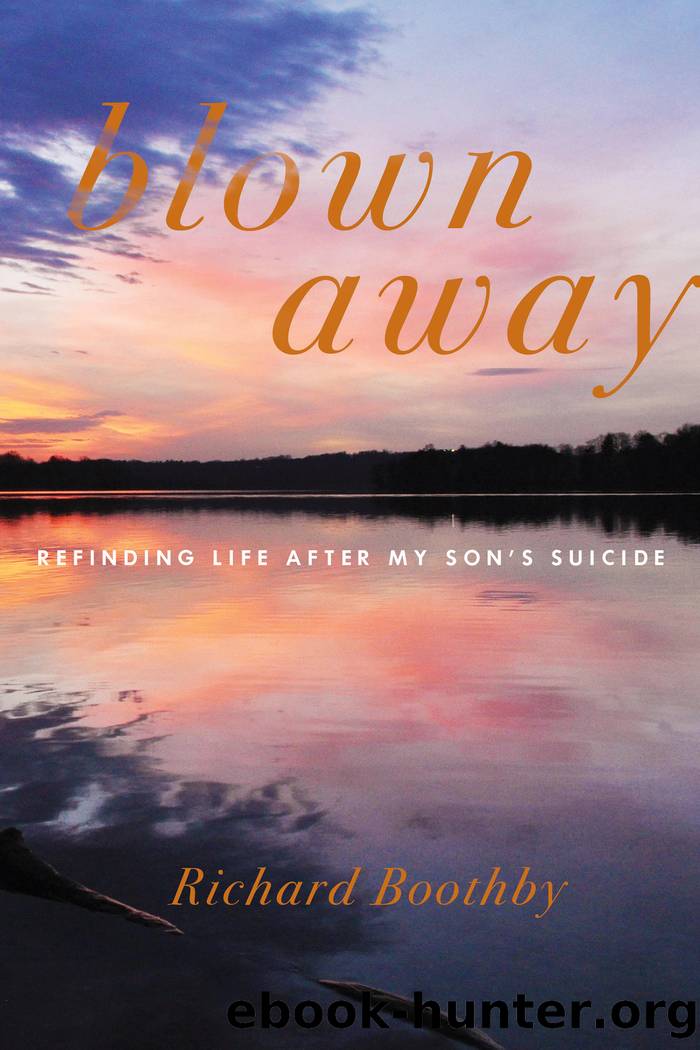 Author:Richard Boothby [Boothby, Richard]
Language: eng
Format: epub
ISBN: 9781635422603
Publisher: Other Press
Published: 2022-05-30T00:00:00+00:00



12
FRIDAY, MARCH 17
Anna amazes me with her resilience. Somewhere, beneath her reassuring appearance of courage and stability, I know that she must be deeply injured and exhausted by the whole, terrible tragedy.
By Friday morning we've found a new apartment for her that seems adequate for her needs and within her spare budget. We buy a new bed that will be delivered later in the day. It remains to collect a larger load of stuff from the old place. Oliver's best friend Whit wants to help and just after noontime the three of us meet at the door. The horrid yellow police tape still hangs limply from the frame. No one has been in the apartment since I left it three days ago.
Whit has come home from Frostburg State for the funeral. In years past, he and Oliver were inseparable, though over the last year or two their friendship, like virtually all of Oliver's relationships, became a casualty of his addiction. Now, sitting in the apartment where Oliver shot himself to death, Whit seems stunned by it all, unable to believe that his friend is gone and that he exited the world so violently. Though Whit is a good deal more familiar with firearms than me, he, too, found Oliver's fascination with guns ominous. And while he is no stranger to drugs, the raging ferocity of Oliver's addiction is alien to him. When he sees the bloodstained mattress, the cold reality of what has happened hits him and he bursts into tears. The three of us take refuge in the living room and stand there in a long, tearful, three-way embrace.
"I just can't believe that he would do it," Whit says, flopping into the big armchair that Oliver preferred on the many nights he drank himself to sleep. Hearing him say it brings the contradiction back to me as well. The stark reality of Oliver's suicide seems impossible to reconcile with the ebullient, sensitive, good-humored spirit whom we all loved so much.
"There were a lot of things that Oliver didn't tell anyone," Anna says, "not even me. I loved him so much. He was like no one else I've ever met. So caring, and so perceptive about things. He would notice things about people that no one else would pick up on and he could be so thoughtful. When things were good, they were really great. But there were lots of times that I felt like he wouldn't let me in, like there was some part of him that he wouldn't let me see. The weird thing is, we would have talks sometimes and he would be so great, so completely there, and I would think, okay, he gets it, we're going to get through this. But then the next day, it would be like we never talked at all. He would just shut down and become someone else."
Her description is excruciatingly familiar to me. I, too, had wonderful moments of feeling connected with him. I thought of the time, nine months earlier, when he asked me to come shooting with him.
Download


Copyright Disclaimer:
This site does not store any files on its server. We only index and link to content provided by other sites. Please contact the content providers to delete copyright contents if any and email us, we'll remove relevant links or contents immediately.