Awakened by Cara Malone
Author:Cara Malone [Malone, Cara] , Date: January 14, 2021 ,Views: 11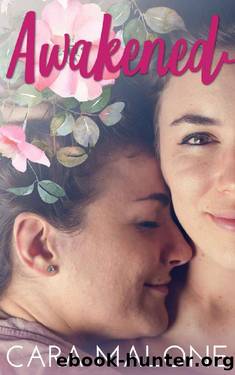 Author:Cara Malone [Malone, Cara]
Language: eng
Format: epub
Tags: Fiction, lesbian, romance, Journalist, New Adult
Amazon: B06XJYDT1Z
Goodreads: 34816459
Publisher: CreateSpace Independent Publishing Platform
Published: 2017-04-07T07:00:00+00:00



CHAPTER 12
Leah walked right past Morgan's cubicle on Monday, her eyes straight ahead as she went to her own cube on the other side of Morgan's tan modular wall. The training week was over, and time would tell if Morgan had actually managed to teach Leah enough about technical writing to allow her to do her job. This was yet another source of guilt for Morgan.
She shouldn't have been pursuing Leah in the first place, regardless of how badly every part of her ached when Leah came near, and regardless of how good it felt to lose control in the café a year ago. She wished Leah would acknowledge her, but their meeting at Olive Garden had proved traumatic for the both of them and all morning on Monday, Leah acted as if there was nothing to say.
Morgan decided that she would try to apologize for everything that happened at lunch. She would tell Leah she cared about her but what had happened between them couldn't go on, and considering the way she was giving Morgan the cold shoulder all morning, Leah would probably say that was fine. At least it would be closure – something Morgan never got when Allison left.
But Leah didn't come to lunch. When Morgan got up to file into the lunch room with everyone else, she found Leah's cubicle already empty. And when she entered the lunch room she hoped to see that she'd just missed Leah and she was already sitting at their customary table. Anton was there, stealing regretful glances over at Amy's empty chair, but Leah's seat was also unoccupied.
"Have you seen Leah?" Morgan asked as she sat down.
He nodded and said, "I saw her heading out the front door a few minutes ago. Maybe she forgot to pack a lunch today?"
Morgan shook her head. "She's avoiding me."
"What happened?" Anton asked.
Morgan filled him in on everything that had happened over the weekend. He knew all about her problems with Allison – or at least, he knew more than anyone else she'd entrusted with that dark period of her life. She'd needed someone to confide in after Alli left, and she couldn't bring herself to sully Allison's name to any of their mutual friends, so she'd kept it all inside until she found a sympathetic ear with Anton.
What she hadn't done until now was tell him about how her relationship with Leah was evolving. It felt like a dam breaking inside of her.
"I never should have given in to my desires," she said. "I shouldn't have kissed her. I shouldn't have let myself fall for her. If I hadn't lost control-"
"Stop," Anton said, putting his hand on Morgan's forearm. "Stop torturing yourself. You followed your heart for the first time since Allison broke it to pieces, and you can't feel bad about that."
"But I've made such a mess out of everything."
"No, Allison made the mess," Anton said. "You just got caught in the middle of it. Life isn't always about pragmatism and doing the right thing.
Download


Copyright Disclaimer:
This site does not store any files on its server. We only index and link to content provided by other sites. Please contact the content providers to delete copyright contents if any and email us, we'll remove relevant links or contents immediately.