Angel's Surrender (Siren Publishing Ménage Amour) by Kat Barrett
Author:Kat Barrett , Date: April 9, 2021 ,Views: 26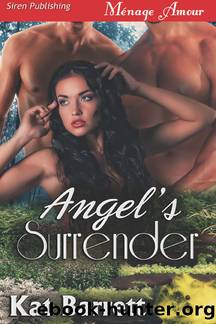 Author:Kat Barrett
Language: eng
Format: epub
Tags: Romance
Published: 2014-02-06T16:00:00+00:00



Chapter 13
They pulled up in front of a restaurant, and Angel frowned. "Where's the club house?"
"It's near here. I just figured you might like one last meal before we leave. This place had four stars on the rating chart."
Angel smiled brightly. It was an amazingly sweet gesture. "I would love that. Thank you."
He grinned. "You can pay me back later."
The comment made her giggle, and Gavin got out, opening the door for her. At every rest stop, he had done the same, scowling when she had opened it herself. They had dropped her testimony in the mailbox by her house, and it was up to the hands of fate to get it to California safely. Angel had locked up the house and with one final glance had walked away from her entire life. The time had arrived to discover if Gavin was telling the truth or if he was off his rocker. He walked with her to the front door and held it open for her. The inside of the restaurant was nice, small tables surrounding a central bar. A young man led them to a table, and they were seated. "Your waitress will be over momentarily. Enjoy your dinner."
"Thank you, we will," replied Gavin.
He handed Angel a menu, and she flipped it open. There were so many things that she really liked and to be choosing one item that would be her final meal on this dimension was a daunting task. She ordered a stuffed lobster with French onion soup, and planned to have both cheesecake and tiramisu for desert. Gavin ordered a chef salad with no cheese and grilled chicken. As soon as the waitress was gone, Angel asked, "So what are we doing later?"
"I'm gonna put my colors on and go into the clubhouse. I'll see how things go from there. Either way, before the night is over they will be disposed of, and we will be home."
"Okay." She wanted to ask more about his dimension, but to discuss it sitting in a public restaurant probably wasn't a good idea. He had already told her quite a bit about the different plants, trees, and animals on the ride to where they were currently eating.
"What are you thinking about?"
"You said that you and Alexia were married. What was the ceremony like?"
He shrugged. "It was in her parent's garden. There was no real ceremony like you have here. We simply sign documents of commitment, and then there is a party."
"I guess there wasn't a white dress, huh?"
"No, not hardly. Although, for this occasion, the man wears a blue sleeve to represent water, and the woman wears a green drape to represent nature. The two remove their covers after signing the document to represent that water and nature will meld."
Angel had a vision in her mind of a woman standing with green leaves on her nipples and mound, but it was probably wrong. "Is she supposed to be a virgin?"
"No. That is not an issue."
"Can everything really be that laid back?"
"It really can.
Download


Copyright Disclaimer:
This site does not store any files on its server. We only index and link to content provided by other sites. Please contact the content providers to delete copyright contents if any and email us, we'll remove relevant links or contents immediately.