99 by Wayne Gretzky & Kirstie McLellan Day
Author:Wayne Gretzky & Kirstie McLellan Day [Gretzky, Wayne & Day, Kirstie McLellan] , Date: June 12, 2021 ,Views: 63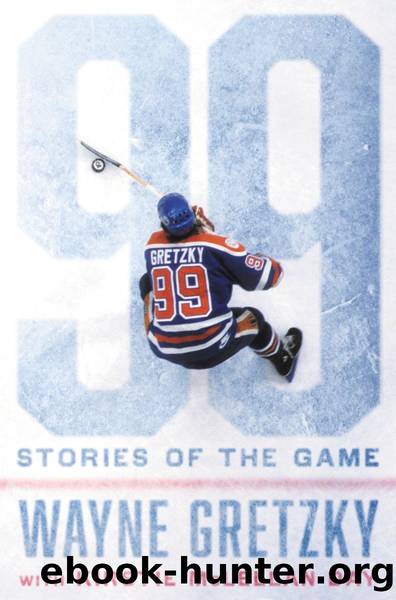 Author:Wayne Gretzky & Kirstie McLellan Day [Gretzky, Wayne & Day, Kirstie McLellan]
Language: eng
Format: epub
Published: 2016-09-28T14:56:20+00:00



Twenty-Five
THE SUMMIT SERIES
Phil Esposito has won just about everything there is to be won in the game of hockey. He scored almost 1,600 points in the NHL, won major trophies several times, and has had his number retired. But when he tried out for a bantam team in his hometown of Sault Ste. Marie, he was cut.
That's what family is for. His father drove truck for Phil's uncle, who owned a company called Algoma Contractors that used to remove the slag from steel plants. The company was doing well, so his uncle was convinced to sponsor a team so that Phil could play in the league that year. Phil went on to play junior in Sarnia, Ontario, which made him the property of the Chicago Black Hawks.
The Black Hawks' GM, Tommy Ivan, offered Phil his first professional contract, but because he held out for more, Ivan considered him a troublemaker. Billy Reay, who'd been a second-line center with the Canadiens in the late 1940s and early 50s, was the Black Hawks coach. (He was a player's coach. He didn't have to scream and yell—he'd just give the players a look. Billy would retire with a 516–335–161 record, the best in the team's history.) Billy wanted Phil to improve his skating. He also thought Phil was too heavy, and told him to lose weight. Phil was 215 pounds and Billy wanted him to weigh in at 190, so he started to fine Phil ten bucks for every pound he was over. But every time Phil tried to steam the weight off, someone would bring in a six-pack of beer and mess up his plans.
Phil was doing a great job centering Bobby Hull. For whatever reason, Reay didn't take him seriously, though. Maybe Reay and the Black Hawks just thought that every center should be a warrior like Stan Mikita. A year earlier, in 1966–67, Mikita had won the Art Ross, the Hart, and the Lady Byng trophies (and he did it again the next year, 1967–68). Reay didn't see Phil as that guy. And in a way, he was right. Phil didn't get by on hustle. His genius was being in the right place at the right time, and the right place was usually the slot. But Reay was spectacularly wrong in another way. A year later, in 1968–69, Phil would win both the Ross and the Hart.
• • •
The expansion trade deadline freeze was scheduled for May 15, 1967, at midnight. That afternoon, Milt Schmidt, the only man in Bruins history to serve as player, team captain, coach, and general manager, took a call from Tommy Ivan. All season long Ivan had been after hard-hitting defenseman Gilles Marotte. But Milt's GM, Hap Emms, had coached Gilles in junior and wanted to keep him.
Boston hadn't won a Cup since 1940–41. They hadn't even made it to the playoffs since 1958–59. They had the makings of a great team, with Bobby Orr as a rookie and Bernie Parent and Gerry Cheevers in goal, but they were missing the final piece of the puzzle: a top forward.
Download


Copyright Disclaimer:
This site does not store any files on its server. We only index and link to content provided by other sites. Please contact the content providers to delete copyright contents if any and email us, we'll remove relevant links or contents immediately.