506915881 by Unknown
Author:Unknown , Date: November 7, 2021 ,Views: 195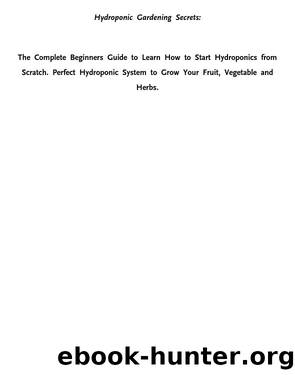 Author:Unknown
Language: eng
Format: epub



Armed with all your planting knowledge, it's time to get those seeds sown. Be sure to keep the seed planting depth recommendations and the proper use of your growing media in mind. Settle your seeds into their new homes and set them aside. When you've got everything down, carefully arrange the pots or baskets into their trays or holes (based on your system) and turn the system on. You want to make sure nothing has started leaking since your initial tests, and see that the water and nutrient solution is reaching all the plants the way it should.
If you have purchased seedlings that were grown in potting mix or transplanting mature plants from outdoors or from a container, you will need to clean the roots before settling them into a new hydroponic home. You'll want to gently remove the plants from their current container and remove as much loose soil as you can with your hands. You can wash the roots off in a bucket of water and then give them a gentle rinse under a running faucet or sink sprayer to get them as clean as possible. The idea is to not introduce any foreign matter into your hydroponics system, or you may run the risk of clogs or contamination. Once the roots are as clean as you can get them, you can feel confident knowing that you did your best to keep your system pure.
Download


Copyright Disclaimer:
This site does not store any files on its server. We only index and link to content provided by other sites. Please contact the content providers to delete copyright contents if any and email us, we'll remove relevant links or contents immediately.