100 Things They Don't Want You to Know by Daniel Smith
Author:Daniel Smith , Date: November 18, 2017 ,Views: 1470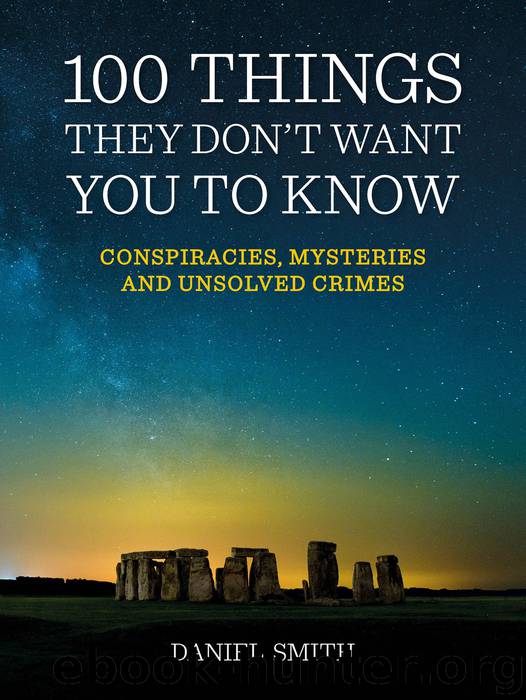 Author:Daniel Smith
Language: eng
Format: epub
Tags: REFERENCE / Trivia
Publisher: Quercus
Published: 2015-12-01T05:00:00+00:00



49 Alfred Loewenstein
THE MYSTERY What happened to the financier who fell out of a plane?
WHEN IT HAPPENED 4 July 1928.
Alfred Loewenstein was for a while known as the richest man in the world. He was also ruthless and had many enemies. On 4 July 1928, as he crossed the English Channel in his private aircraft, he went to use the facilities – minutes later he was found missing, with one of the plane doors open. His body was discovered 15 days later – was it suicide, a cruel accident or something more untoward?
Born in Belgium in 1877, Loewenstein came to London during the First World War and became hugely wealthy playing the markets. Various critics accused him of criminality, arrogance and an utter lack of ethics but, whatever the truth, he accumulated a fortune worth around US$12 million at 1920s' prices. He used some of this to satisfy his lust for the finer things. He was aboard his personal plane – one of the first with an on-board toilet – flying from Croydon (near London) to Brussels when nature called, and he headed for the plane's bathroom, accessed at the rear of the cabin via one of two doors (the other door was the main entrance/exit).
When he did not reappear after some minutes, his secretary went to investigate and found the bathroom empty but the main door flapping open. Assuming Loewenstein had plunged to his death after becoming confused as to which door was which (associates confirmed he was increasingly absent-minded), the secretary related his sad discovery to his fellow flyers – the pilot, a mechanic, a valet and two lady stenographers. The plane landed on a deserted beach in Normandy, remaining there for half an hour for reasons that remain unclear. It then made for a nearby airfield to report what had happened. Loewenstein's body was eventually found off Boulogne on 19 July.
News of his death caused a temporary market crash, and the rumour mill went into overdrive. The British Air Ministry seemed to rule out accidental death by concluding the main door could not be inadvertently opened at flying altitude. Inevitably, some suspected his staff of killing him (possibly in collusion with family members), using the lost half hour on the Normandy beach to cover their tracks. Others alleged suicide, citing the diminishing fortunes of his company or impending revelations of corruption. Curiously, Lowenstein's wife did not attend his funeral, where he was buried in an unmarked grave. Was this evidence, some wondered, that his death was faked? If you're the richest man in the world, perhaps nothing is impossible.
Download


Copyright Disclaimer:
This site does not store any files on its server. We only index and link to content provided by other sites. Please contact the content providers to delete copyright contents if any and email us, we'll remove relevant links or contents immediately.