You Can Sell Anything by Telephone! by Dr. Gary S. Goodman
Author:Dr. Gary S. Goodman , Date: March 8, 2020 ,Views: 146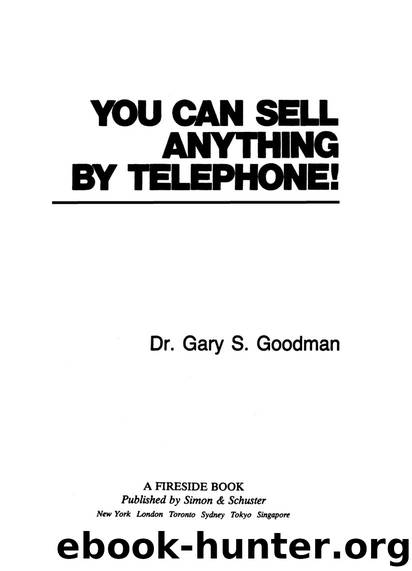 Author:Dr. Gary S. Goodman
Language: eng
Format: epub
Tags: SOC035000
Publisher: Simon & Schuster
Published: 1984-07-15T00:00:00+00:00



The Inactive Account Approach
Whenever I hold a seminar, I ask the participants if they believe their inactive accounts are valuable, and without exception the answer is "yes." Most of us are a little afraid of speaking to those with whom we used to do business because we think that they'll be sorry to hear from us again.
More often than not, it's the other way around. Our inactive accounts are delighted to hear from us again after finding that our replacement wasn't nearly as suitable as the client once believed.
If there is any bad blood that remains, we can try to understand its foundation and see what can be done to overcome it. It's really pretty easy because the key skill involved is listening.
"Hello, Ms. Johnson? This is Gary Goodman with Goodman Communications. How have you been???
"Well, that's good. I was looking over my records the other day and I noticed that we haven't had much of a chance to do any business lately, and I was simply wondering why this might be?"
As you guessed, this is the time to button our lips and listen. We may hear that we lost the client's business because they didn't like our salespeople, or something simply rubbed them the wrong way that they never got up the gumption to let us know about. Whatever the reason, the best thing to do is to listen politely and ask what can be done to make up for the misunderstanding, or offer a remedy of our own.
I've found that people are really very forgiving and generous when we show the courage and character to admit our shortcomings and solicit constructive criticism. The reward is usually another shot at the business.
Download


Copyright Disclaimer:
This site does not store any files on its server. We only index and link to content provided by other sites. Please contact the content providers to delete copyright contents if any and email us, we'll remove relevant links or contents immediately.