Who Rules America? by G William Domhoff
Author:G William Domhoff [Domhoff, G William] , Date: September 23, 2022 ,Views: 87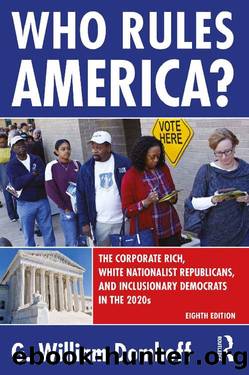 Author:G William Domhoff [Domhoff, G William]
Language: eng
Format: epub
Publisher: Taylor and Francis
Published: 2021-11-28T23:00:00+00:00



Shaping Public Opinion through the Media
The Ad Council, which was established during World War II to urge people to buy war bonds, provides free advertising for a wide range of nonprofit organizations and government initiatives. It made big news in 2021 for the first time in many years because of an all-out campaign to convince people to be vaccinated against COVID-19. New media articles explored the nature of the campaign and in the process extolled the virtues of the Ad Council's contribution to the public good over the past eight decades, featuring Smokey Bear (Only You Can Prevent Wildfires), McGruff the Crime Dog (Take a Bite Out of Crime), and Friends Don't Let Friends Drive Drunk. Since its early beginnings, "it's hard to name a countrywide crisis or cause the Ad Council has not lent its energy to" (Montgomery 2021).
In 2020, in the midst of the economic crisis created by the pandemic, the Ad Council joined with Ivanka Trump, the CEO of Apple, the CEO of General Motors, and the Business Roundtable to suggest that people should "Try Something New" because "Jobs are changing—and the pandemic has accelerated the pace." It urged people to "pivot and retrain." Whether you're entering the workforce for the first time or need to pivot and retrain, the Ad Council claimed that skills-based education could put people on a fast track. It urged people to explore their options. Since the fundamental problem was a lack of jobs, the campaign had many of the victim-blaming qualities that have been noted in several earlier campaigns. When it turned its attention to the environment, for example, it focused on people picking up trash and helping out by recycling, despite the major role played by the industries that save themselves money by "externalizing" the costs of limiting the damage they are causing to the air, waterways, and landfills (Hirsch 1975).
The Ad Council also contributes to the nonprofit organizations sponsored by the corporate community. Its board of directors, consisting of marketing executives from highly visible brand-name retailing companies, high-tech firms, and media organizations, have agreed to requests to urge people to support the American Red Cross, Big Brothers Big Sisters of America, the National Urban League, and the American Cancer Society (Montgomery 2021).
Download


Copyright Disclaimer:
This site does not store any files on its server. We only index and link to content provided by other sites. Please contact the content providers to delete copyright contents if any and email us, we'll remove relevant links or contents immediately.