War Stories by Paul Dowswell
Author:Paul Dowswell [Dowswell, Paul] , Date: February 15, 2020 ,Views: 154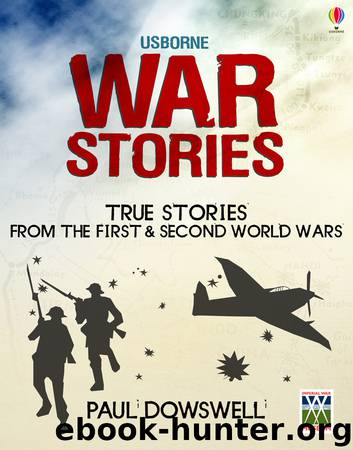 Author:Paul Dowswell [Dowswell, Paul]
Language: eng
Format: epub
Publisher: Usborne Publishing Ltd
Published: 2013-11-25T16:00:00+00:00



The Venlo Snatch
It was October 21, 1939, and World War Two had just begun. In Zutphen, a town in neutral Holland, rain drummed down on the roof of a large Buick limousine. Behind the wheel Sigismund Best adjusted his monocle and squinted through the window of his car. Suddenly another car drew up. A man jumped out. Best leaned over to open the door and the man climbed in beside him. The Buick roared into life and rolled through the streets, wipers flailing.
Best looked like the typical English gentleman. Tall, with an aristocratic manner, he wore spats and a tweed suit. His hair was carefully oiled; he even wore a monocle. But this was deceptive. Best was in fact half Indian. He was also a spy. He lived in Holland with his Dutch wife, and ran a small business importing bicycles, but really he was a member of Z Branch – an independent group of agents which formed part of Britain's Special Intelligence Service (SIS).
Best's credentials were impressive. He spoke four languages, and during World War One he had run a successful network of spies behind enemy lines. Currently, he was trying to make contact with dissatisfied Germans willing to fight against Hitler and the Nazis. As far as he could tell, things were going very well indeed.
Best had been contacted some weeks earlier by one of his agents, a refugee who had fled from persecution in Germany. The man knew many high ranking officers within the German army and he had assured Best that there was a great deal of resentment against Hitler, resentment which had built up to a strong resistance movement. Best had probed deeper and had been given the name of an officer involved with the resistance movement – Hauptmann Schaemell. This was the man now sitting in the car with him.
Best spoke German well, and the two men drove through the Dutch countryside chatting together in German about classical music. At the town of Arnhem, they picked up two of Best's colleagues, an English officer named Major Stevens, and a Dutch officer named Captain Klop. Although Holland was neutral at the time, Klop was assisting the British. He wanted to keep his nationality a secret, so he was pretending to be Canadian and was using the name Coppens. This was a convincing alias. Klop had spent several years living in Canada, and the country was an ally of Britain's.
Best drove on. Schaemell, he reflected, seemed like a good catch. As they drove, the German reeled off a list of officers who were eager to see Hitler's downfall and named an important general who was prepared to lead the resistance. Schaemell promised to bring the general to their next meeting, which they set for October 30.
What Best didn't know was that the Germans were one step ahead of him. The refugee who had introduced him to Schaemell was in fact a German spy named Franz Fischer. The resistance movement Best was hearing all about did not exist.
Download


Copyright Disclaimer:
This site does not store any files on its server. We only index and link to content provided by other sites. Please contact the content providers to delete copyright contents if any and email us, we'll remove relevant links or contents immediately.