The Sophia Code: A Living Transmission from The Sophia Dragon Tribe by Kaia Ra
Author:Kaia Ra , Date: August 7, 2018 ,Views: 635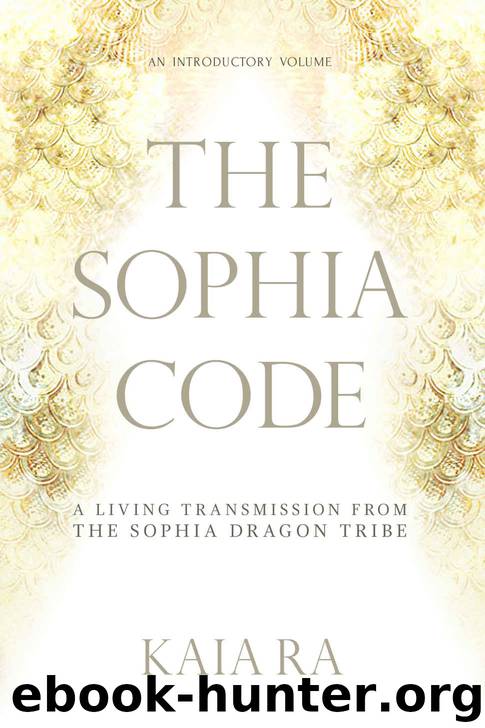 Author:Kaia Ra
Language: eng
Format: mobi, epub
Tags: goddesses, Mary Magdalene, Quan Yin, dragons, The Sophia Code, archangels, sovereignty, Mother Mary, Sophia
Publisher: Kaia Ra & Ra-El Publishing
Published: 2016-08-08T07:00:00+00:00



Following the Voice of Your Heart
The feeling nature of humanity has been demonized throughout centuries of patriarchal religious, governmental, and societal programming. As Mother Mary I once stood in a human body, just as you do now, with all of my tender, vulnerable feelings about living in a world rife with conflict and tyranny.
Although my destiny elevated me to the status of an internationally known figure, to the end of my life I was consistently challenged by the rampant repression of women. Everywhere I traveled for my ministry I faced the socially conditioned demands placed upon women to mute our feelings and relinquish our sovereign right to create reality.
My heart always guided me to act with courage, grace, and strength in response to these demands – to firmly stand in the truth of what was important for me to feel. Regardless of all outer circumstances, I met every temptation to shun my feelings with an inner resolve to follow the voice of my heart. As a result of this personal commitment to never turn against myself and deny my own feelings, I became a living sanctuary of emotional safety for my own heart. The integrity of emotional safety that I offered myself eventually became an important part of my Divine Feminine embodiment for others to witness and empower themselves by my example. Always remember that listening to and following your heart will always positively affect the evolution of humanity, far beyond your understanding.
You naturally begin to hear the voice of your heart once a practice is established for understanding the intelligence of your emotions. Exploring a dialogue with your heart often begins with a question to clarify what a feeling means. Certain emotions will stand out in their intensity, magnetizing your awareness to ask your heart questions, such as: "Is this decision right for me?" Your heart is always listening, waiting to engage with you and respond with the truth.
At first, the voice of your heart may feel curt or brief in its responses, simply replying with yes/no or short phrases. Do not give up. These brief answers will saturate your mind and body with startling truths that inspire your curiosity to engage further. By practicing the quieting of your mind and sincerely asking your heart questions, you will increasingly hear the voice of your heart speaking with greater regularity, ease, and detail. Your heart's voice grows in confidence as it is assured that you are actively listening for its responses. Further, your heart will reveal greater detail as you practice appreciating and giving thanks for every response that you receive. Your appreciation creates a sanctuary for this important self-dialogue to flourish.
Your heart does not want to move beyond that which your Oversoul is still learning through you and your heart also does not want to be left behind as your compass. A daily practice for listening to your heart's guidance initiates your awareness to live fully engaged within the present moment. For you can only access your highest potential in the present moment; it is from here that you move forward into every next step of your evolution.
Download


Copyright Disclaimer:
This site does not store any files on its server. We only index and link to content provided by other sites. Please contact the content providers to delete copyright contents if any and email us, we'll remove relevant links or contents immediately.