The Scientist and the Psychic by Christian Smith
Author:Christian Smith [Smith, Christian] , Date: December 30, 2020 ,Views: 277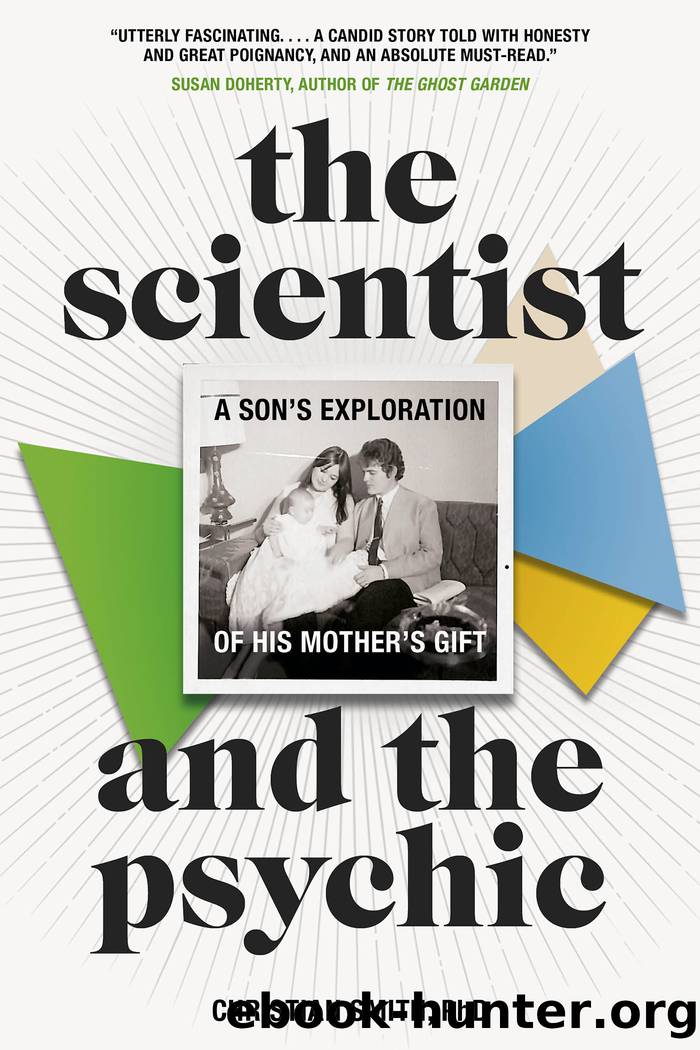 Author:Christian Smith [Smith, Christian]
Language: eng
Format: epub
Publisher: Random House of Canada
Published: 2020-12-29T00:00:00+00:00



* * *
—
Although I held fast to my doubts about the existence of an afterlife, in the name of research I wanted to stay open to the possibility that Louis could make contact with Nanny, or at the very least reveal unique information from one of my lost relatives.
It wasn't the first time I'd spoken to a psychic who wasn't my mother. Before Louis, I tested the abilities of a local Toronto psychic named Brough, who was also a self-described medium. At the time, Nanny had yet to receive her lung cancer diagnosis, and our word agreement was months away. Like Louis, Brough conducted the reading over the phone, which suited my experiment perfectly. With no chance to observe my facial expressions or body language, Brough couldn't rely on cold-reading techniques.
The reading went very well. Perhaps too well. There were a couple of times when I instinctively felt his statements were too exact. At one point, I wondered if he was searching the internet while we were talking on the phone.
In the hour-long reading, Brough made thirty-seven perceptions, seven of which were too vague to consider in an accuracy calculation. Eighteen of the remaining thirty impressions were accurate, and twelve were wrong. Converted to a percentage, Brough's accuracy rating was 60 percent—a decent score given the complexity and detail of what he said. Unfortunately, all of his statements were clairvoyant, and he didn't mention communicating with a spirit.
Had I not become suspicious, I would have hung up the phone completely happy with the result and considered it money well spent. But my internal voice nagged at me, questioning if the correct perceptions from my reading could have been found through prior online investigation. Brough had four pieces of information about me—my full name; email address; location (given away by the area code of the phone number I provided); and that I was "some kind of doctor."
With my email address in hand, Brough would have been able to find my Twitter account. Although I was primarily a voyeur of the platform—someone who mostly retweeted and rarely posted—every suspicious perception from my reading could have been sourced from the links in two particular tweets. I have no way of knowing or proving that Brough conducted online research, and I wanted to give him the benefit of the doubt—after all, he made predictions about a future event that eventually came true. When I set up my phone reading with Louis, though, I didn't make the same mistake. I used an ambiguous email address to book the session, and then did some double-checking. I entered the new email address into the Google search bar; it returned hundreds of search results completely unrelated to me. I smiled when I read the first hit: Bangladesh Telecommunications Regulatory Commission.
Good luck with that, Medium!
My phone reading with Louis lasted seventy-four minutes, and the entire call was awkward. There were long periods of silence, followed by rapid-fire questions. I stayed quiet, struggling to make sense of what he said and feeling starved of a genuine hit.
Download


Copyright Disclaimer:
This site does not store any files on its server. We only index and link to content provided by other sites. Please contact the content providers to delete copyright contents if any and email us, we'll remove relevant links or contents immediately.