The New Tarot Handbook: Master the Meanings of the Cards by Rachel Pollack
Author:Rachel Pollack , Date: August 9, 2020 ,Views: 336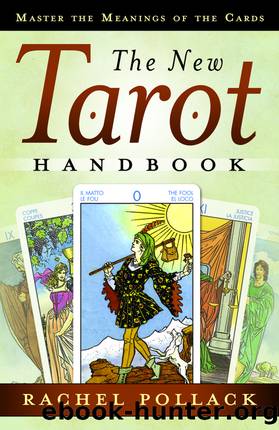 Author:Rachel Pollack
Language: eng
Format: epub
Tags: tarot, cards, tarot cards, divination, tarot reading, tarot spread, tarot cards, reading, reader, spread, arcana, fortunetelling, minor, major, major arcana, minor arcana, suits, rachel pollack
Publisher: Llewellyn Publications is an imprint of Llewellyn Worldwide Ltd.
Published: 2012-05-15T16:00:00+00:00



Seven of Wands
element:
fire
theme:
action
We would expect that as the most active suit, Wands would take the theme of action almost to an extreme. And certainly he appears energetic, standing in a wide stance on top of a hill, holding his stick as if ready for combat. Because of his posture, most people assume the wands below are thrusting up at him in some kind of attack, almost as if the followers from the Six have turned against the leader they so eagerly marched alongside. But, of course, there are other interpretations, including the idea of extra resources. The face here appears more expressive than on many of the cards. But what exactly does it show? Determination? Anger? Fear? Excitement? This is one of the cards where it can really help to ask the querent to describe the picture, especially the attitude of the central figure.
Notice the mismatched shoe and boot, as if he got dressed in such a hurry he just grabbed what he could find and ran up the hill. That lack of organization suggests someone struggling just to stay on top of things, handling several crises at once. In other words, this card can seem uncomfortably close to many people's lives.
Every suit carries an advantage and a flaw. Wands possess all that energy and optimism, but Fire resists containment and thus can find it hard to make plans or choose its battles. If indeed the man here represents a fighter, he seems stuck in six battles at once, without a clear plan of how to resolve them.
divinatory meanings:
Dynamic energy, possibly aggressive or defensive against real (or imagined) threats. Someone who puts energy into many different things at once but has trouble resolving any of them.
reversed:
Disorganization, possibly feeling overwhelmed. Alternatively, learning to choose battles or to work on one problem at a time.
Download


Copyright Disclaimer:
This site does not store any files on its server. We only index and link to content provided by other sites. Please contact the content providers to delete copyright contents if any and email us, we'll remove relevant links or contents immediately.