The Forest of Hands and Teeth by Carrie Ryan
Author:Carrie Ryan [Ryan, Carrie] , Date: March 27, 2014 ,Views: 580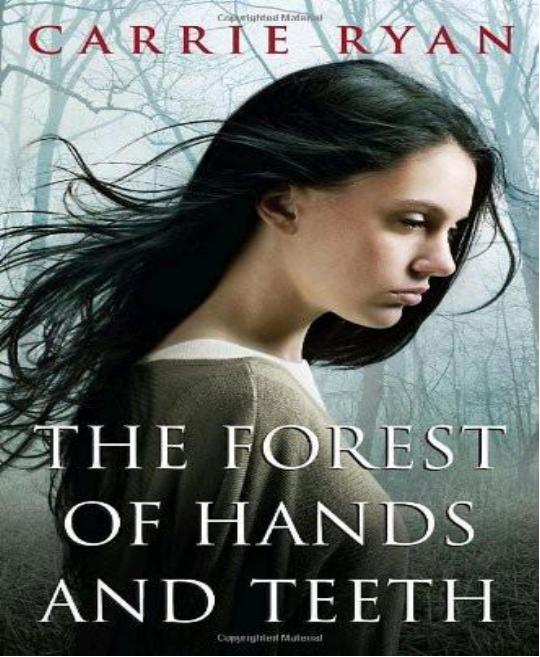 Author:Carrie Ryan [Ryan, Carrie]
Language: eng
Format: epub, mobi, azw3
Publisher: Delacorte Press
Published: 0101-01-01T00:00:00+00:00



I stay true to my promise: I don't tell the others about Beth. But I still watch her. I watch to make sure that Jed never leaves her side. Even without a weapon, I am ready to kill her, whether he is or not.
That evening, just as the sun is setting fire to the treetops, the path finally bulges wider, giving us relief from the constant overwhelming nearness of the fence and the fear that one wrong step will send us clattering against the links and into Unconsecrated fingers. Sitting in the middle of the clearing is a wooden trunk held together with metal bands. It's long and wide and has a large rusty lock hanging from one end. Argos sniffs at it, tail swinging back and forth as he dances around excitedly.
We gather around it and I notice that letters are branded onto the top. I wipe my hand over them, clearing away rotted leaves. XVIII.
I think back to the letters that Gabrielle traced into the window in her room: XIV. "What do these letters mean?" I ask Jed.
He shrugs. "Does it matter?"
"Did the Guardians put them here?" I prod.
"No, the chest has always been here. It was the Sisters that told us about it and asked us to keep the supplies fresh."
"What about the key?" Harry asks.
Jed shrugs again. "Somehow I didn't think to bring it with me."
I turn and hide my face against my shoulder, stifling laughter.
Harry swings at the lock with his ax, busting it on the third try. Inside are two water bladders, two bags of food and two more double-sided axes. Jed takes one and Travis the other.
"We should camp here tonight, where there is space," Harry says. We all agree, relieved to be out of the narrow gap between the fences, and the men begin to pull the boards off the trunk to start a fire while Cass and I prepare a meager meal.
We say little that evening as we eat. I watch as flames consume the letters once branded into the wood of the trunk and I think about Gabrielle and how she looked that night when I saw her through the window in the Cathedral. Her long black hair framing skin that was both pale and dark, like the moon as it hangs just over the horizon. Before she became Unconsecrated. When she was just a girl like me, staring through a locked window at the promise of the path through the Forest, the promise of another world.
That night, as I fall into a broken sleep, Argos tucked in my arms, I dream of Cass and Jacob straining through the fence for me. Except they are not Unconsecrated. They're on one side of a locked gate and I'm on the other and the sounds of the Unconsecrated fill my ears but I don't know if they are coming for me or for them.
Cass opens her mouth and screams and I am jolted awake only to find that her screams still echo in my ears.
Download


Copyright Disclaimer:
This site does not store any files on its server. We only index and link to content provided by other sites. Please contact the content providers to delete copyright contents if any and email us, we'll remove relevant links or contents immediately.