The Eternity Code [Disney] by Eoin Colfer
Author:Eoin Colfer [Colfer, Eoin] , Date: May 14, 2022 ,Views: 19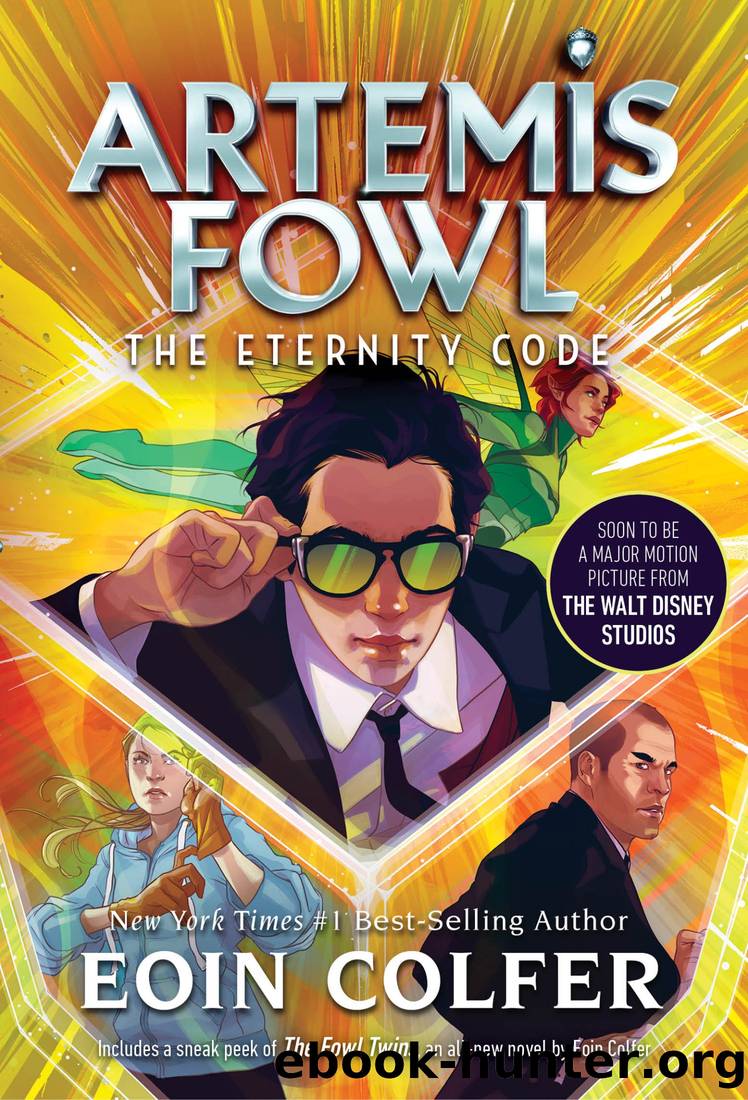 Author:Eoin Colfer [Colfer, Eoin]
Language: eng
Format: epub
ISBN: 9781423132219
Publisher: Disney Book Group
Published: 2018-05-15T00:00:00+00:00



Vacant lot, Malthouse Industrial Estate, South Chicago
Jon Spiro had not hired Pex and Chips for their debating skills. In the job interview, they had only been set one task. A hundred applicants were handed a walnut and asked to smash it however they could. Only two succeeded. Pex had shouted at the walnut for a few minutes, then flattened it between his giant palms. Chips had opted for a more controversial method. He placed the walnut on the table, grabbed his interviewer by the ponytail, and used the man's forehead to smash the nut. Both men were hired on the spot. They quickly established themselves as Arno Blunt's most reliable lieutenants for in-house work. They were not allowed outside Chicago, as this could involve map reading, something Pex and Chips were not very good at.
At the moment Pex and Chips were bonding under a full moon, while Mulch dug a dwarf-size pit in the dry clay behind an abandoned cement factory.
"You wanna guess why they call me Pex?" asked Pex, flexing his chest muscles as a hint.
Chips opened a packet of the potato chips he was forever crunching.
"I dunno. Is it, like, short for something?"
"Like what?"
"I dunno," said Chips. He used that phrase a lot. "Francis?"
This sounded dumb, even to Pex. "Francis? How could Pex be short for Francis?"
Chips shrugged. "Hey. I had an Uncle Robert and everyone called him Bobby. That don't make no sense neither."
Pex rolled his eyes. "It's pec-tor-als, moron. Pex is short for pectorals, on account of me having big chest muscles."
In the pit, Mulch groaned. Listening to this mindless banter was almost as bad as having to dig a hole with a shovel. Mulch was tempted to deviate from the plan and launch himself into the flaky soil. But Artemis did not want any display of fairy powers at this stage of the proceedings. If he took off, and these goons escaped without being mesmerized, then Spiro's paranoia would be driven up another notch.
Up on the surface, Chips was eager to continue the game.
"Guess why they call me Chips," he said, hiding the bag of chips behind his back.
Pex kneaded his forehead. He knew this one.
"Don't tell me," he said. "I can work it out."
Mulch poked his head from the hole. "It's because he eats chips, you idiot. Chips eats chips. You two are the thickest Mud Men I have ever met. Why don't you just kill me? At least I won't have to listen to your drivel."
Pex and Chips were stunned. With all the mental exercise, they had almost forgotten about the little man in the hole. Plus, they were unaccustomed to prospective victims saying anything besides, "Oh no, please God, no."
Pex leaned over the grave's lip. "What do you mean drivel?"
"I mean that whole 'Chips Pex' thing."
Pex shook his head. "No, I mean what does the word drivel mean?"
Mulch was delighted to explain. "It means rubbish, garbage, claptrap, twaddle, baloney. Is that clear enough for you?"
Chips recognized the last one. "Baloney? Hey, that's an insult! Are you insulting us, little man?"
Mulch clasped his hands in mock prayer.
Download


Copyright Disclaimer:
This site does not store any files on its server. We only index and link to content provided by other sites. Please contact the content providers to delete copyright contents if any and email us, we'll remove relevant links or contents immediately.