The Empress and the Ambassador by M.D. Cooper
Author:M.D. Cooper [Cooper, M.D.] , Date: January 14, 2021 ,Views: 25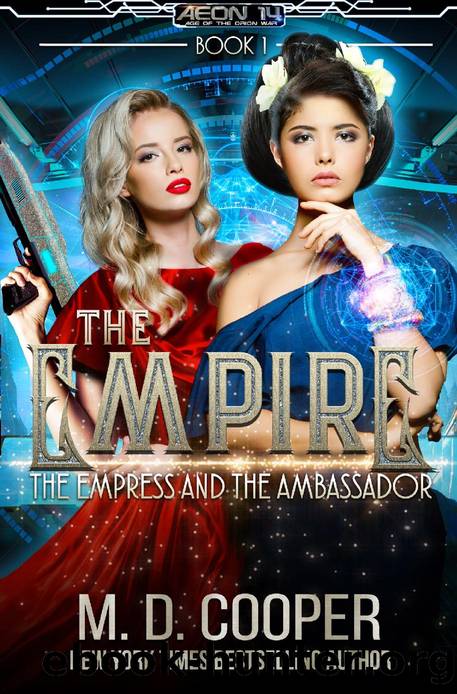 Author:M.D. Cooper [Cooper, M.D.]
Language: eng
Format: epub
Publisher: The Wooden Pen Press
Published: 2019-03-21T04:00:00+00:00



EXFIL
STELLAR DATE: 10.06.8948 (Adjusted Years)
LOCATION: Delorum
REGION: Alexandria, Bosporus System, Scipio Empire
Petra and Kory rode the rest of the way to the docks in silence. Both agents and the AI kept an eye peeled for any sign of attack, skipping through networks and keeping in constant contact with the Hand agents spread across the asteroid.
By the time they reached the dock concourse, Petra was all but itching with anticipation, wishing the attack would just come so they could get it over with.
They exited the car and began the walk down the long concourse, both watching the Impera Protego stationed at regular intervals, waiting for one of them to raise their weapon and kick things off. Petra couldn't tell if it was her imagination or not, but she couldn't help but feel that the imperial guards had a more menacing posture than when they'd arrived.
As they rounded a bend, she caught sight of their shuttle's berth and saw two of the imperial guards standing on either side of the entrance.
<Well that looks ominous. Are they aware of the attack on me? Is this a protective measure?> she asked.
<Nothing on their comm network leads me to believe that they're aware you were spiked,> Alastar said. <The empress is still in the Atlior Pacel, eating her ice cream and as at ease as she ever is, so I doubt she set her guards on you.>
<Which means there's no legitimate reason for them to be there,> Kory surmised.
<Just because she's casually eating ice cream doesn't mean she's not messing with me. It wouldn't be the first time.>
No one spoke further as they closed the distance to the ship. When the two Hand agents were a few meters from the airlock, the guards stepped in front of the portal, blocking their forward progress.
"Well?" Petra drew herself up, trying to look as intimidating as a person could while covered in white feathers. "Is there something I can help you with?"
Neither guard responded. Petra was considering shoving them aside when a voice spoke from behind them.
"You certainly can."
Via the drones she'd deployed, Petra saw an Impera Protego captain step through a doorway across the concourse, and stride across the deck toward her and Kory.
Having no trouble adopting an annoyed expression, she turned and folded her arms across her chest. "You'd best make it quick, then, Captain. I have places to be."
<The six imperials in our line of sight have just turned safeties off on their weapons,> Alastar advised, his voice tinged with worry.
<We have two shooters of our own on the concourse, but they're several hundred meters away,> Kory added. <Trying to move them up without giving anything away.>
"You do," the captain, a tall, raven-haired man, agreed. "But not anywhere you have our empress's ear."
"I serve at her pleasure," Petra replied, her voice measured and calm. "And on the orders of my superiors."
"Perhaps." The man stopped three meters from Petra. "But we know that you're really just a manipulative bitch. Between you and that thing in her head, the empress is little more than a puppet.
Download


Copyright Disclaimer:
This site does not store any files on its server. We only index and link to content provided by other sites. Please contact the content providers to delete copyright contents if any and email us, we'll remove relevant links or contents immediately.