The Circadian Diabetes Code by Satchin Panda PhD
Author:Satchin Panda, PhD [Panda, Satchin] , Date: November 26, 2021 ,Views: 87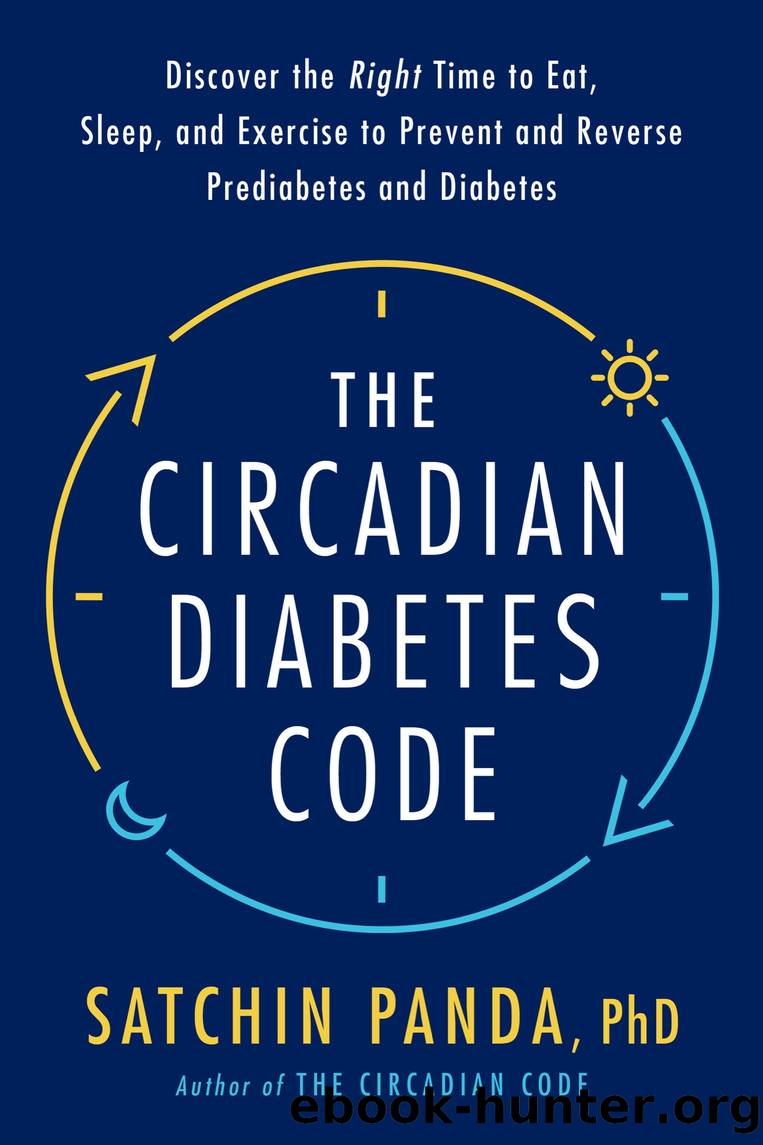 Author:Satchin Panda, PhD [Panda, Satchin]
Language: eng
Format: epub
Publisher: Harmony/Rodale
Published: 2021-11-09T00:00:00+00:00



WHAT TO EAT: BREAKFAST
When you start intermittent fasting, you may want to eat a big breakfast because you're hungry from the overnight fast. This is not a problem, and in fact, I encourage it. On this plan you will be having the majority of your calories in the first half of your eating window. Here's an example: if your 10-hour IF is going to be from 8:00 a.m. to 6:00 p.m., then you aim to finish lunch by 1:00 p.m. (5 hours into your IF) and then you've had most of your calories in the first half of the eating window.
There is a circadian reason for this: in the first half of the day, the pancreas produces more insulin and at night it slows down. IF aligns the pancreas clock to be more sensitive to food and produce more insulin in the first half of the eating window. In one recent study, researchers found that when people shift to eating most of the macronutrients in the early hours of the day, they saw improved blood work and reduced body weight, along with a reduction in overall appetite and better glucose control for those with Type 2 diabetes.9 Eating a big breakfast aligns with the pancreas clock, and the blood insulin level does not rise too high. After you eat a big breakfast, you have the whole day to get some activity and exercise, so your muscles will help you to absorb those extra calories.
And because your insulin response is better in the morning, and nearly half the food you will eat all day is carbohydrates, you are taking advantage of that insulin response when your body can process carbs better by eating a breakfast that includes lots of complex carbs. In the same study, we found that an increased complex carbohydrate intake at breakfast and a reduced complex carbohydrate intake at dinner improved overall blood glucose control and weight loss, and also reduced hunger and cravings, compared with a reverse schedule.
Remember, not any carb will do. Choose only from the low- and ultra-low-GI carbs, like fiber-rich oatmeal made from old-fashioned rolled or steel-cut oats, to help control blood sugar throughout the day. Vegetables, fruits, nuts, and seeds easily add more complex carbs to your plate. Combine these great carb choices with protein, as well. Eating protein early in the day triggers the right amount of acid secretion in the stomach. If you have more protein at breakfast than at dinner, you will reduce your chance of getting heartburn or a poor night's sleep. This combination actually makes your digestive system work longer to digest food, and you will feel full (satiated and less hungry) for hours and will be less likely to snack.
My go-to breakfast is a combination of oatmeal, cottage cheese, and almond powder (that I make myself by crushing almonds in a coffee grinder). This works for me because the cottage cheese has a lot of protein, and the oatmeal and almond powder are both low glycemic. When I want an extra carb hit, I throw in a handful of blueberries.
Download


Copyright Disclaimer:
This site does not store any files on its server. We only index and link to content provided by other sites. Please contact the content providers to delete copyright contents if any and email us, we'll remove relevant links or contents immediately.