The book of magnet healing : a holistic approach to pain relief by Coghill Roger
Author:Coghill, Roger , Date: March 5, 2020 ,Views: 393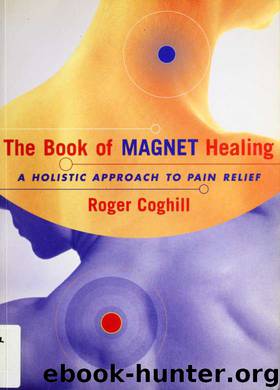 Author:Coghill, Roger
Language: eng
Format: epub
Tags: Mind, Body, Spirit, New Age / Body, Mind & Spirit, Health/Fitness, Health & Fitness, Alternative Therapies, Healing - General, New Age (Self Help), Health & Fitness / General, Magnetotherapy
Publisher: New York : Simon & Schuster
Published: 2000-03-04T16:00:00+00:00



magnet research
Bioelectromagnetic societies
The First Biomagnetic Symposium was held at the University of Illinois' College of Pharmacy in November 1961 Sixty-five delegates from all over the US attended, and the two-day event included visits to three nearby biomagnetics laboratories. The US Bioelectro-magnetics Society (BEMS) was not formed until 19 years later. In 1998 this 700-strong society was accorded educational status by the US medical establishment. It now organizes sponsored conferences and has a web-based forum for the exchange of ideas worldwide.
The European Bioelectromagnetics Association is younger and smaller with about 290 members. Its biennial congresses attract more Eastern bloc participants and thus present science not reported at the BEMS meetings. The International Commission on Non-Ionizing Radiation also holds occasional symposia, and publishes the proceedings.
Research worldwide
After World War II the Eastern bloc countries were very keen to develop inexpensive methods of cure, to avoid reliance on expensive drugs manufactured in the west. At the 1996 World Congress on Magnetotherapy in London, delegates from the former Soviet Union reported on magnet treatments with static magnets and alternating devices. In the Czech Republic Dr Jiri Jerabek has compiled a list of hundreds of clinical studies of magnet therapy. Similarly in the Ukraine there is an established body of clinical evidence of the efficacy of magnet therapy, and one expert, Dr Sergei Gerasimov, reports trials on children with asthma using magnets and also radio waves.
The Japanese also have a long history of magnet therapy research and practice, building on their tradition of using non-chemical methods of healing, such as Shiatsu. In 1976 the scientist Nakagawa undertook a major review of over 100 studies on magnets dating back to the 1950s. In his view magnetic fields redress the imbalance caused by the weakening geomagnetic field and the advent of artificial alternating electric and magnetic fields. The development of lightweight powerful neodymium magnets in Japan in 1983 triggered more research into their therapeutic uses, since they make it possible to apply a strong local magnetic field with a very small magnet. The Japanese firm Nikken, now one of the largest companies in the world, manufactures and sells magnets and magnetic appliances such as insoles, knee pads, and mattress pads worldwide.
A twenty first century therapy
More recently the failure of conventional western medicine to develop satisfactory drug treatments for degenerative and immune system diseases have led to increased interest in many forms of complementary therapy, and magnet therapy in particular. There are ongoing research projects at several universities, including the Vanderbilt University, Nashville, Tennessee, which held a World Congress in 1999. In the UK, the Royal Society of Medicine's sports medicine department is now taking an interest in magnet treatments. The advertisement regulatory authorities have also helped the science, by insisting on clinical trials proving the efficacy of any products advertised. In consequence the number of good quality peer-reviewed studies is increasing, and with it greater medical acceptance of the role of magnets in healing.
Download


Copyright Disclaimer:
This site does not store any files on its server. We only index and link to content provided by other sites. Please contact the content providers to delete copyright contents if any and email us, we'll remove relevant links or contents immediately.